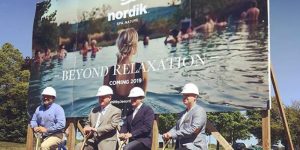 The countdown to the opening of Nordik Spas' long-awaited Whitby, Ont., facility has become a bit longer.
Company officials recently confirmed they are working toward a spring 2021 opening due to some delays in getting materials for the construction site.
Among the features to be included at the Whitby facility include seven outdoor pools, eight distinct saunas including one event sauna, and a saltwater floatation pool, among others.
Despite the delay, the website for the project still indicates it will be opening in fall 2020.
After years of negotiations with the town, Nordik Spas first officially announced the facility in 2017, but it has faced several delays, with construction beginning in late-2019. It stands on the grounds of the former popular tourist attraction Cullen Gardens.