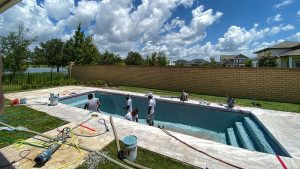 The interest and demand for residential pools in Windsor, Ont., is exploding at a jaw-dropping rate.
As reported by CBC Windsor, Meghan Mailloux, co-owner of Paradigm Pools, they are getting "triple" to "quadruple" the number of calls they usually receive.
Mailloux estimated anyone who wants a pool will likely have to wait until 2022 and added the demand for hot tubs is just as high.
According to the article, as of late-March, the City of Windsor had already issued 89 pool permits this year, compared to 176 in total in 2020, and 110 in total in 2019.
One homeowner who spoke to CBC said her family first ordered their pool in April 2020, with an expectation it would be installed last October. The pool was just installed at the end of March.