By Jason Cramp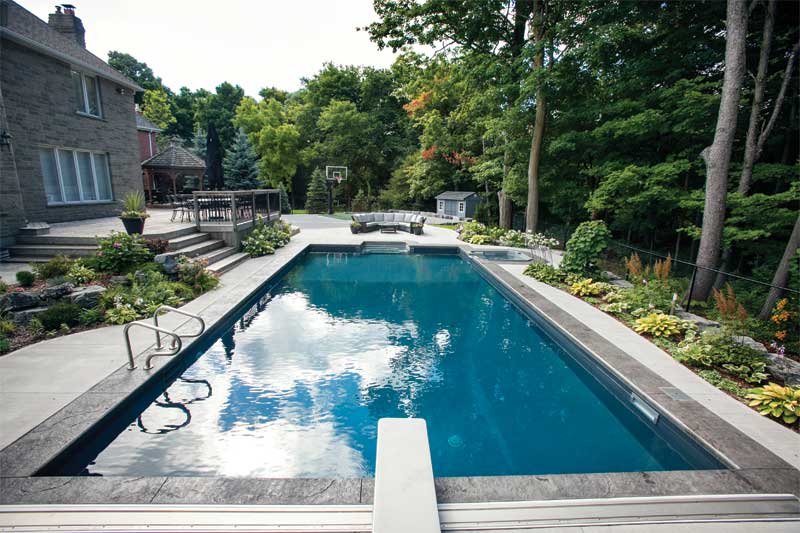 The heart of this fully landscaped backyard in Waterloo, Ont., is a 6- x 12-m (20- x 40-ft) rectangular vinyl-lined pool, which was designed and installed by Precision Pools to correlate with the home's architecture. Every design aspect, including the pool's position, was carefully considered to create a complete backyard escape that is tucked away from neighbouring houses to provide as much privacy as possible.
The perimeter of the pool was finished using a dark-coloured stamped concrete that features a cantilever profile edge, making it easy for bathers to grab for simple ingress/egress from the water. Further, the contrast between the pool's coping, surrounding deck, and spacious lounge areas—which are finished with charcoal-tinted brushed concrete—not only create a harmonious two-tone appearance, but also emphasizes the clean lines of the pool.
An attached grey-acrylic spa matches the 2.4-m (8-ft) step in the pool's shallow end as well as the in-wall ladder and diving board in the deep end.
The sitting area, located between the pool and large basketball court, provides plenty of space to entertain or relax and unwind. To build the court, Precision Pools poured a 10.6- x 18-m (35- x 60-ft) concrete base, while a 1.2-m (4-ft) concrete footing was constructed for the installation of the backboard and net. However, before the concrete could be poured, 46 m (150 ft) of armour stone had to be installed first to level the yard to accommodate the pool, patios, and basketball court.
All of these features satisfied several of the homeowner's objectives as the family is very active and wanted to turn their entire yard, which is surrounded by large trees and thick foliage, into a charming secluded recreational space.