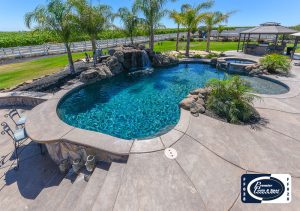 Premier Pool & Spas has announced two new pool service locations in Texas and Iowa.
Aaron Gurley, president of Premier Franchise Management, has selected Michael Boulanger as the owner of the League City, Texas location, and Shawn and Brandy Harmison as owners of the location in Des Moines, Iowa.
"Becoming a Premier Pools & Spas franchisee is a life-changing decision. Our company culture is unlike any other as our franchisees are supportive of one another, share knowledge, and celebrate successes," said company founder Paul Porter.
Boulanger was born and raised in a small rural town in northern California. After graduating high school and moving to Nashville for a few years, he made his way back to his hometown, reuniting with a former classmate, Molly. They're now married with three sons.
He has had two careers with the Department of Defense and as a correctional peace officer, where he served in leadership positions.
Boulanger said, "The feeling of knowing I am servicing my client's pools and they are putting their trust in me to create a safe and clean environment for them to enjoy."
Shawn started Topline Construction in 2013, specializing in concrete construction, including bridges and cast-in-place concrete buildings. After years in concrete, he is looking forward to a new challenge.
"I want customers for life. I want to build their pool, then take care of it for many years to come, so our customers can enjoy their investment," he said.