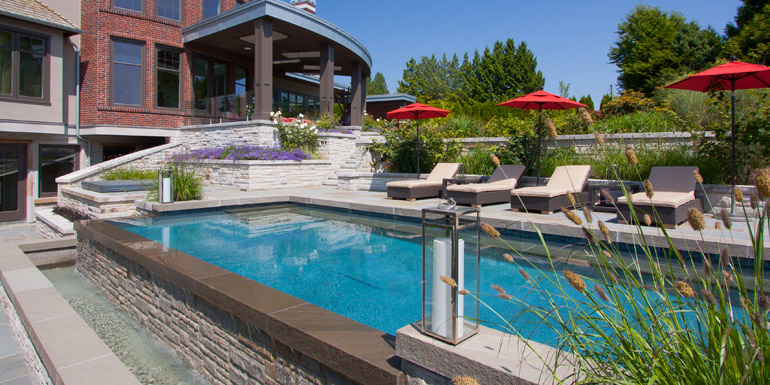 By Jason Cramp
This split-level lot in Burnaby, B.C., which has a gentle, southwest slope, naturally lent itself to a vanishing-edge pool design. With this in mind, Alka Pool Construction Ltd., also of Burnaby, installed a 3.6- x 9.7-m (12- x 32-ft) pool, complete with a 9-m (30-ft) angular vanishing edge, which nearly spans the entire length of the pool and allows water to cascade approximately 0.6 m (2 ft) into a lower catch basin.
Opposite the vanishing-edge wall is an underwater bench seat, which runs the entire length of the pool, allowing bathers to relax and listen to the tranquil sounds of water as it spills over the pool edge. To connect the backyard's various elevations, a series of steps and landings were created, which lead from the upper outdoor living space to the immediate pool area. Each space offers an immaculate view of the landscaped rear yard and cityscape beyond, while the swimming serves to connect all of the different backyard elements.
In completing the project, various textures and finishes were used throughout. For instance, the pool's steps and underwater bench are clad in thick bluestone slabs, while irregularly split bluestone was used to finish the outer spill of the vanishing edge, thus furthering the cohesive appeal of the backyard. The pool's interior also co-ordinates with the other stonework used throughout the backyard as it was finished with a pebble-plaster coating.
An automated, slatted cover—housed in a roller pit beneath the pool deck—was also installed to insulate the pool and reduce the homeowner's energy costs by preventing heated water from escaping. This also helps to extend the swimming season.
Alka Pools worked closely with Teragon Developments, which managed the landscaping and house construction, as well as landscape architects, Eckford/Tyacke & Associates.