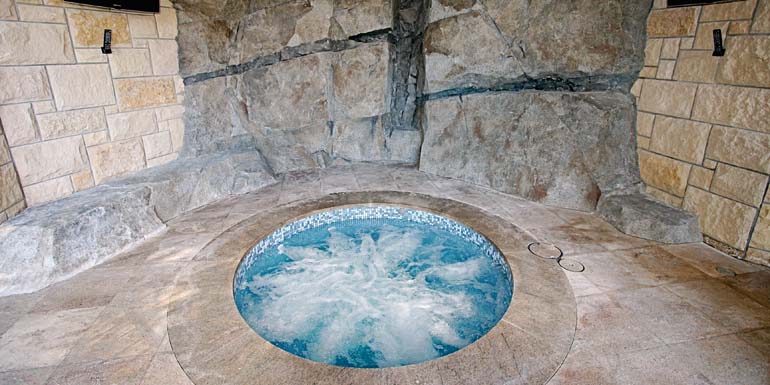 By Jason Cramp
This semi-enclosed 'grotto' spa, built by Aloha Pools Ltd., in Burnaby, B.C., for a loyal customer in West Vancouver, is possibly one of the strongest spas in the city. Thanks to the owner's request to increase the spa's power and hydrotherapy features, it boasts a total of 21 jets, including three swim jets.
The 2.4-m2 (8-sf) spa, which is finished with Italian glass tile, is powered by a 1-horsepower (hp) circulation pump and a trio of 3-hp variable-speed pumps. The surrounding deck area is finished with custom fabricated granite coping and deck tiles, while faux granite (and inclusions), by Terra Forma Design Group, were used on the grotto's cavern-like walls to match the geography and topography of the surrounding hillside.
Intended for the owner's personal use and accessible exclusively through his personal gym, the spa was part of a much larger project. Also installed was a 6.1- x 12.2-m (20- x 40-ft) glass-tiled swimming pool along with a second glass-tiled spa with numerous amenities, including an automatic safety cover, an outdoor Roman fountain, two multi-tiered faux rock waterfalls and a meandering stream that cascades into a beautiful koi pond.
To create a dramatic effect at night, light emitting diode (LED) colour lights were incorporated into the design, while a swimming pool automation system was tied into the owner's extensive home automation system to make operation easier. This intricate set up allows the owner to control all features and functions of the spa, including two outdoor, flat screen TVs mounted on either side of the grotto.
The various water features, including the grotto spa, were designed to provide a transition between the client's spectacular Tuscan-style villa and the rugged surroundings, which include a natural stream. Placing the grotto spa near the stream, faux-rock surround and waterfalls provides an effective transition between man-made and natural features.