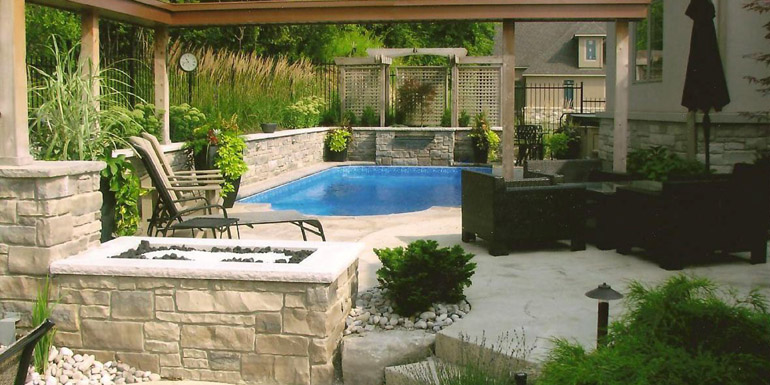 By Jason Cramp
Although the restrictive space, irregular property lines, and 1,106-mm (40-in.) slope rise of this 8.5- x 26.8-m (28- x 88-ft) backyard presented some challenges, Artistic Shadows Landscaping/Pools of Arva, Ont., transformed this London, Ont., landscape into a complete outdoor oasis.
In addition to dealing with limited yard space, furthering the challenge was the fact the project had to follow specific condominium guidelines and regulations. Despite this, Artistic Shadows not only tackled these head on, but also met all criteria set out by the homeowner. In doing so, a 3.6- x 8.5-m (12- x 28-ft) rectangular, vinyl-lined saltwater swimming pool was installed to maximize the allotted space, while also providing the family with a generous amount of room for various aquatic activities. An automation system was also installed, not only for ease of operation, but also to control features such as pool lighting and hydrotherapy jets located in the 2.4-m (8-ft) Roman stairs in the shallow end.
A combination of stamped concrete and natural flagstone inlays were used to construct the patios surrounding the pool, creating separate seating and lounge areas in the backyard. These areas also have an uninterrupted line of site to the pool and are separated by a custom gas fireplace.
To preserve the natural look of the home's architecture without comprising space, natural stone walls were incorporated into the design to hold back and retain the existing slope.
Adding sophisticated flair to landscape is a 1-m (3-ft) stainless steel spillway, inserted into the stone wall opposite the Roman stairs. The project also includes an outdoor kitchen area and a 3- x 3-m (10- x 10-ft) tiki hut, complete with wrap around benches and a composite floor to elevate the structure over the natural drainage area. Furthering the backyard's visual appeal is a custom faux-copper soffit system, which acts like a pergola, defines the spaces, and provides downward lighting. To further seclude the backyard space and promote its tranquility, a lattice/trellis structure was also installed directly behind the water feature.
To finish the space, Artistic Shadows incorporated a number of low-maintenance gardens and building materials to unite the backyard with the mature forest backdrop.