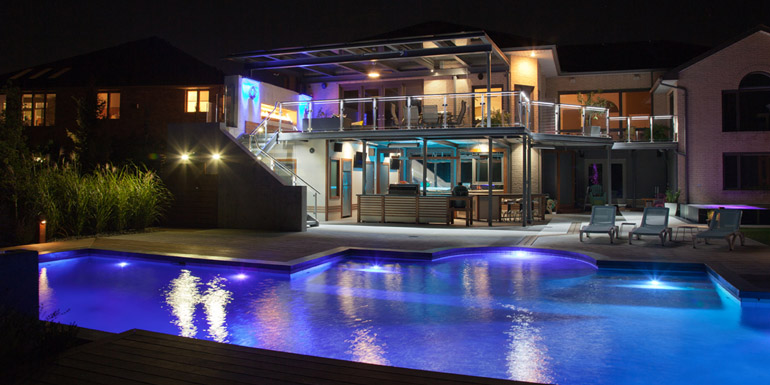 By Jason Cramp
This project's use of clean lines and various uncluttered, efficient spaces effectively mimics the contemporary style and theme of the interior and exterior of this residence in Arva, Ont. Managed by Artistic Shadows Landscaping/Pools, also of Arva, the job called for the installation  of a 15.2- x 4.2-m (50- x 14-ft) custom-concrete pool with waterfall spillways, an overflow spa, fireplace, privacy screens, decking and patio areas, change/bathroom facilities, outdoor kitchen, and lawn space.
As the goal was to provide the client a seamless transition from the home's upper deck to its lower walkout, the use of various materials such as concrete, Ipe wood, glass, and stainless steel is inherent throughout the project.
The swimming pool, for example, includes a Baja shelf (a large shallow area in the pool for lounging) and a cantilevered deck with wraparound dock and inlayed Ipe wood accents, while tempered glass, inserted into the weir of two poolside spillways, projects light into the pool. A number of other highly reflective materials were also incorporated into the landscape to enhance the project's overall lighting effects. This includes the use of stainless steel and glass railings, a wall of accent mirrors, and frosted glass privacy panels.
Adding to the property's dramatic visual effect are various custom lighting features such as wooden bollards and deck lights, along with a custom bulkhead with lighting over the outdoor kitchen area. The use of colour-changing, light-emitting diodes (LEDs) further enhance the property by using up lighting techniques to highlight birch trees and their architectural details, washing concrete walls, and illuminating the water.
Finally, the use of frosted and clear glass in the design of the two-storey concrete wall, which houses the fireplace, enhances the 3-m (10-ft) linear flame and creates an inviting seating area on the upper deck, which overlooks the swimming pool.
The collaboration of design ideas between Artistic Shadows, an award-winning landscaper, and designer Adam Mackowiak played an essential role in completing this project, which is fully automated and offers the client Internet remote access.