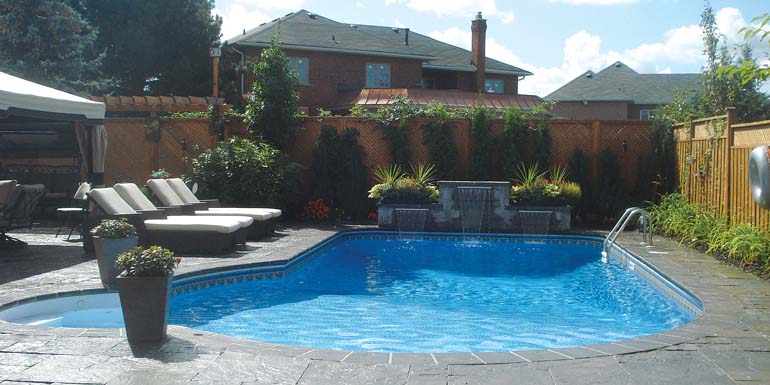 By Jason Cramp
Rather than having a blank canvas from which to build the ultimate outdoor escape, Backyard Getaways Inc., a pool, spa and landscape design/build firm in Brampton, Ont., was asked by their client to perform a complete pool and backyard renovation, and they met the challenge head on.
For this homeowner in Woodbridge, Ont., it was time to revive their dated outdoor living space. As they frequently entertain friends and family, as well as host large gatherings, they wanted to create a cottage-like retreat. As such, the existing pool structure, standard concrete deck and old paving stones no longer sufficed.
In working with the client's budget and 'wish list,' Backyard Getaways breathed life back into the backyard by preserving the existing 4.8- x 9.7-m (16- x 32-ft) keyhole-shaped pool structure (size, shape, walls and concrete base) but modernized several of its features. This comprised new bull-nosed stone coping and aluminum-liner track, as well as an updated vinyl liner, 2.4-m (8-ft) acrylic pool step and light-emitting diode (LED) lighting features. All existing plumbing lines were changed and upgraded, and a new safety cover was also installed.
Keeping the design simple, yet functional, the existing decking was completely removed and the entire backyard was finished with manmade flagstone pavers to create an additional 465 m2 (5,000 sf) of useable living space.
Prior to construction, the backyard lacked many of today's modern landscape features. Now, however, this is not the case, as Backyard Getaways included several amenities, which heightened the backyard's entertainment value. For instance, a poolside waterfall was added along with extensive woodwork privacy screens installed along the perimeter of the backyard. Three cedar structures were also constructed to provide shelter around the backyard's key social areas. A trellis was incorporated into the built-in barbecue and kitchen area, while a pergola was installed to house the client's portable hot tub. Another structure comprises a large custom-built cabana and bar, which creates a sheltered lounge area next to the kitchen.
Various gardens and plants strategically placed throughout the backyard help to create an exceptional experience, while low-voltage garden and feature lighting was used to highlight these areas at night.