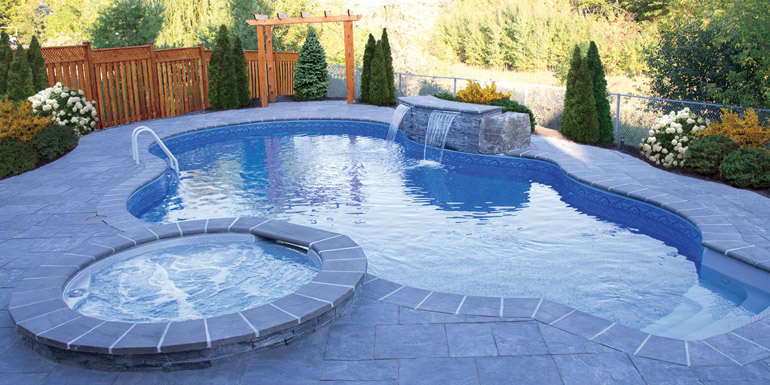 By Jason Cramp
Nestled in the backyard of this Mississauga, Ont., home is a custom vinyl lagoon-shaped pool designed and built by Backyard Getaways Inc., in Brampton, Ont. The 5.4- x 10.9-m (18- x 36-ft) pool mimics its surroundings, creating balance between the backyard and natural parkland beyond the property's boundaries. The setting not only provides a quiet, therapeutic area for rest and relaxation, but can also easily transform into an entertainment hub for gatherings with family and friends.
The pool also features a 2.1-m (7-ft) fibreglass spillover spa, which allows the homeowner to continue to use the space during those cooler evening hours as well as later into the year when the temperature start to drop. Double sheer descent waterfalls, opposite the spa, introduce calming and tranquil sounds of water to the space, while light-emitting diode (LED) illumination adds a visual appeal to the water feature at night. Manmade flagstone decking and pool coping surround the aquatic features giving the backyard a clean, polished, natural-look, while landscaping elements, including trees, flowering shrubs, and a wooden pergola, were all carefully selected to create a one-of-a-kind suburban getaway.
Finally, an in-deck solar cover was also included in the design, adding convenience for the homeowner in that it eliminates the need for a traditional, on-deck reel-based cover system. This option is not only more visually appealing, but also makes it easier for one person to operate the cover.