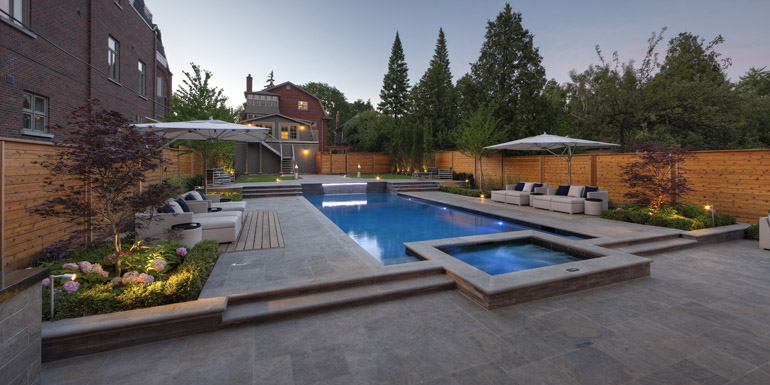 By Jason Cramp
To provide this upper mid-town Toronto homeowner with all of the luxuries of modern living, without forgoing the convenience of their central urban location, Betz Pools Ltd., of Stouffville, Ont., designed and built this project by starting from the house and working outwards.
In doing this, a Brazilian Ipe terrace was installed off of the home's kitchen walkout, located on top of the garage. To avoid obscuring the view of the backyard from the walkout, a tempered-glass railing system was used. From here, a set of custom stainless steel stairs with inlaid Ipe wood lead to the backyard.
To work with the rear-sloping yard, a three-level design was used with each main element (i.e. garage, pool, and cabana) installed on separate elevations. Spacious patios finished in sandblasted Wiarton Eramosa limestone are located on each level, while inlaid Ipe wood was used strategically throughout the backyard to co-ordinate various features such as the intimate lounge areas along either side of the pool.
The 4.8 x 12 m (16 x 40 ft) gunite pool's design was also kept simple and consistent, using matching bullnose coping on all vertical surfaces to co-ordinate with the saw-cut ledge rock. A raised wall in the pool's deep end serves as a diving platform in addition to housing a dramatic sheer waterfall. In the shallow end, a gunite spa was incorporated into the design, which also includes a water feature that spills into the pool. Matching walk-in pool steps flank both sides of the spa, making ingress/egress easy from either side of the deck.
On the final elevation (opposite the house), a spacious cabana finishes off the backyard and offers the homeowners a variety of amenities, including a full stainless steel kitchen, eight-person dining table, digital entertainment centre, and a lounge area complete with an outdoor fireplace and closing glass wall. Finally, a custom-stone barbecue area with granite countertops along with an outdoor shower and equipment room was installed adjacent to the cabana.