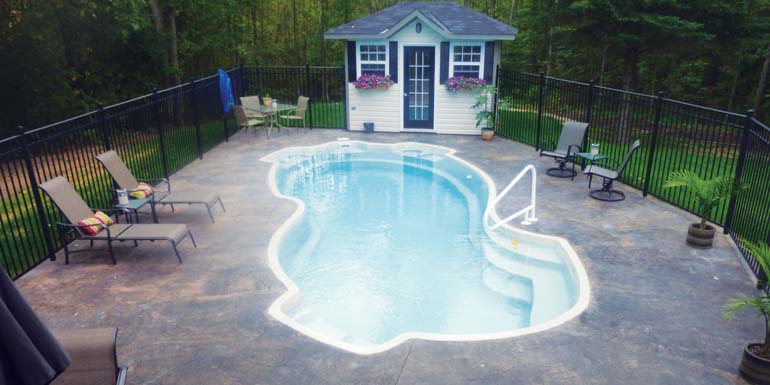 By Jason Cramp
Cobra Pools & Spas Inc., a pool builder in Perth, Ont., recently installed a unique, one-piece fibreglass swimming pool for a client living just outside the town who was looking for a backyard amenity perfect for entertaining, exercising and spending time with family.
The innovative shape and size of the 4.2- x 9.75-m (14- x 32-ft) beach-sand coloured pool, which has a 1.77-m (5-ft 10-in.) deep end, fit perfectly into the customer's backyard. The pool's three 'double-love seats' are characteristic features of the fibreglass pool manufactured by Dolphin Pools in Trenton, Ont. They provide rest areas for anyone wanting to take a time out from exercise or simply looking for a place to relax in the water.
The pool was equipped with an underwater illumination system comprising two lights, which fully illuminate the irregular-shaped pool. This extends the homeowner's pool usage well into the evening, while also providing greater safety in and around the pool. One of the biggest challenges Cobra Pools faced occurred during excavation. The project commenced in early March. Excavating during this time of year in rural Ontario can be difficult at times—especially when dealing with 203 mm (8 in.) of ground frost, with the balance of the dig comprising solid rock. In order to complete the project, groundwater needed to be continuously pumped from the excavation site until the pool was installed and backfilling was complete. Tackling this challenge was made easier by the fact Cobra Pools has all its own excavation equipment. Scheduling of digs, backfilling and landscaping were far less complicated since sub-contractors were not needed to complete the various stages of construction.
Additional concrete was laid at the shallow end to create a large space for entertaining guests, including a poolside dining area, while numerous areas for lounging were added around the perimeter of the pool. Opposite the shallow end is a quaint pool house, which the homeowners designed and had installed to provide a nearby change room and storage facility for both swimming pool accessories and garden tools. An aluminum fence neatly separates the swimming pool, deck area and pool house from the remainder of the yard, adding an extra element of safety to the property.
Cobra Pools & Spas completed the entire project from start to finish, with the exception of the stamped concrete pool deck, which was completed by Stamp N' Stone, a decorative and stamped concrete installation firm, also in Perth, Ont.