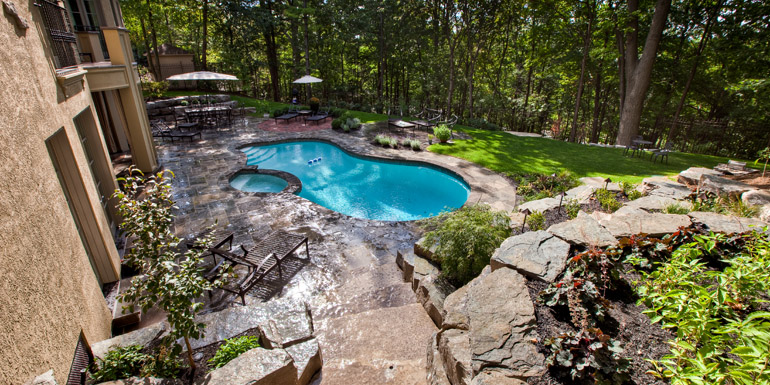 By Jason Cramp
The addition of a concrete swimming pool and rustic patio area in the backyard of this large, colonial-style residence in Vaughan, Ont., not only co-ordinated well with the home's architectural design, but also created space for the family to relax and entertain with friends.
Inspired by the client's vision to create a serene backyard getaway, Darsan Contracting of Concord, Ont., which designed and built the entire project, transformed the unembellished property into the ideal backyard retreat, complete with various lounge areas and a 5.5- x 11.5-m (18- x-38 ft) lagoon-shaped swimming pool. The pool has a maximum depth of 2.4 m (8 ft) and features an attached, large spillover spa. Both have a white, marble-like finish and give the backyard a tropical feel reminiscent of the white, soft-sand beaches found in the Caribbean.
In keeping with the property's natural surroundings, which comprise of heavily-treed conservation areas, Darsan used various building materials that would work in unison with the landscape and prevent any component from looking out of place. For instance, to compensate for the elevation change from the front to back of the property, large slabs of natural stone were used to create slow, meandering steps to provide access to the backyard and patio/pool area from the side of the house. Rockery was also used to create retaining walls on both sides of the rear of the house. Not only did this provide an area to create various planting beds, but also allowed the homeowner to extend the indoors out by installing the patio flush with the walkout basement of the home.
The spacious patio surrounding the pool was constructed of square-cut Owen Sound flagstone and includes a large dining area, ample room for social gatherings, in addition to various tranquil spaces for reading, lounging or sunbathing. Adding to the rustic appeal of the landscape is a circular accent patio made of red clay brick, which was inset into the main patio, creating yet another peaceful sitting area.