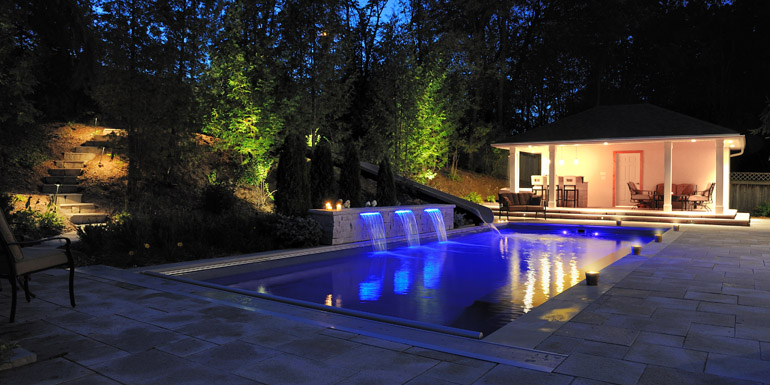 By Jason Cramp
To fulfil this homeowner's need for the ultimate backyard entertainment centre, Floral Design of Kemptville, Ont., installed a 12.1- x 4.8-m (40- x 16-ft) saltwater Leisure Fiberglass swimming pool in conjunction with a fully equipped cabana to host large parties for friends and business colleagues.
The rectangular pool is the focal point of this Ottawa-area homeowner's backyard. It features a graduated depth—from 1.2 to 1.9 m (4 to 6.5 ft)—and includes a 12.1-m (40-ft) built-in bench that runs along one entire side. Steps are located on the opposite side to allow for easier kickoffs during lap swimming. Finally, an automatic cover, installed under the pool's soft sandstone bullnose coping, offers protection without creating a visual distraction.
The cabana includes kitchen and washroom facilities, along with a full bar and space for poolside dining and socializing. Drawing everything together is an imported, natural stone granite deck, which extends throughout the landscape, leading up to the nearby home. Complementing the deck is a natural stone staircase that winds through a steep tree-lined hill, which serves as the property's backdrop, and leads bathers to an imported custom-built 9.7-m (32-ft) waterpark-style slide. Also located along the back wall of the pool are three waterfall features, which provide an esthetic impact along with the soothing sounds of splashing water.
Multi-coloured, remote-controlled light-emitting diode (LED) fixtures illuminate the space after dark, highlighting various vantage points of the landscaped yard.