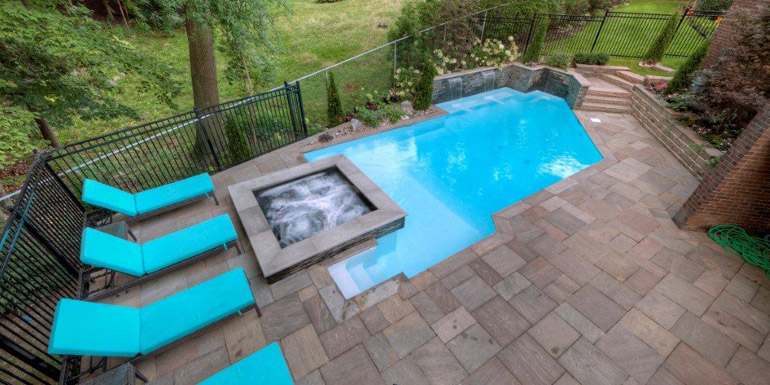 By Jason Cramp
This Toronto project, built by Lido Pools in Richmond Hill, Ont., is a testament to how vinyl-lined swimming pools can approach the appearance of a gunite swimming pool.
To do just this, various features of this 5.8- x 10-m (19- x 33-ft) multiform geometric rectilinear pool were customized, including the skimmer locations, which were raised to the top of the wall panel to allow the water level to rest 12.7 mm (0.5 in.) below the natural-stone coping. In fact, the coping itself was also modified by notching the bullnose so it would overhang and essentially hide the pool's vinyl-liner track.
Another unique feature of the project was the integration of a 4.8-m (16-ft) vinyl-over bench that was constructed in the pool's deep end to provide an area for bathers to rest and take in the soothing audio and visual sensations of the waterfalls overhead. An adjacent raised spill-over spa was also incorporated into the pool's shallow end, creating another water feature and adding to the overall esthetics and ambiance of the backyard. Similar to the customization of the pool's appearance, the fascia of the acrylic spa's exterior wall was clad in a natural 'Stax' stone finish to disguise the acrylic shell.
The pool deck comprises natural-stone dry-laid decking, which serves to tie all of the backyard elements together. Further, strategically placed light-emitting diode (LED) lights in the pool (two) and spa (one), combined with various landscape and deck lighting, provide the homeowner with functional illumination and mood-setting capabilities.
Not only did Lido have to fulfil the client's desire to achieve the look of opulence and quality while integrating their sought-after amenities, the project also had to conform to a challenging finite pool envelope governed by the City of Toronto's Parks, Forestry and Recreation division's 'Tree Protection Zone' (TPZ) policy due to the number of trees on the property.
Despite these challenges, Lido nestled this aquatic escape neatly into a corner of the backyard, allowing the homeowner to maximize the remaining space for a children's play area. The end result is a gated pool area that provides safety in a sophisticated and stylish setting.