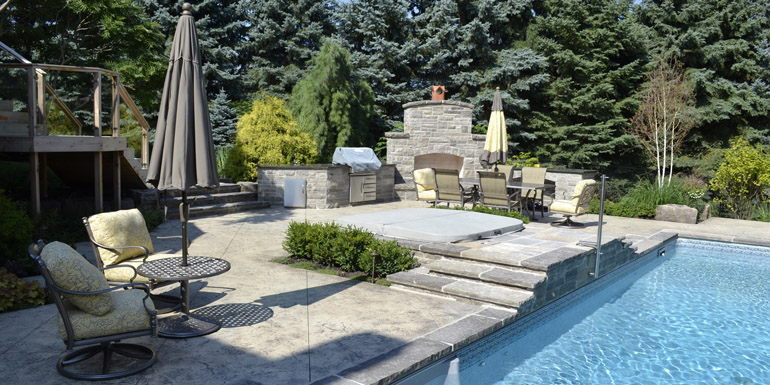 By Jason Cramp
A number of unique features and an expansive patio area designed by M & S Architectural Ltd., in Bradford, Ont., transformed this once large open space into the ultimate backyard oasis.
Next to the sprawling deck area and various outdoor amenities, one of the main elements of this Woodstock, Ont., backyard is a 5- x 9-m (16- x 30-ft) light-blue vinyl pool, which is surrounded by a rustic, architectural concrete patio. A raised fibreglass hot tub is inset into a flagstone feature wall of the pool and greets bathers as they approach the pool area from the deck off of the house. The hot tub's exposed walls are finished in Ebel ledge rock, while two vertical garden pockets containing low-profile shrubs help to further co-ordinate the design with the heavy foliage surrounding the backyard.
The straight and sleek lines of the large concrete deck emphasize the rectangular shape of the pool, while the overall design provides an unobstructed view of the custom cabanas constructed on the far side of the property, opposite the hot tub. A 1- x 2.5-m (3- x 8-ft) rough-cut cedar pergola joins the two cabanas, which incorporate an outdoor rinse station and shower.
Other backyard amenities include a natural-stone, wood-burning fireplace and an outdoor cooking station—complete with granite-finished countertops—which harmonize with the concrete deck to provide the homeowner a fully equipped entertainment centre. In the evening, these features, in combination with strategically placed landscape lighting, help make this backyard a great place for social gatherings well into the evening.