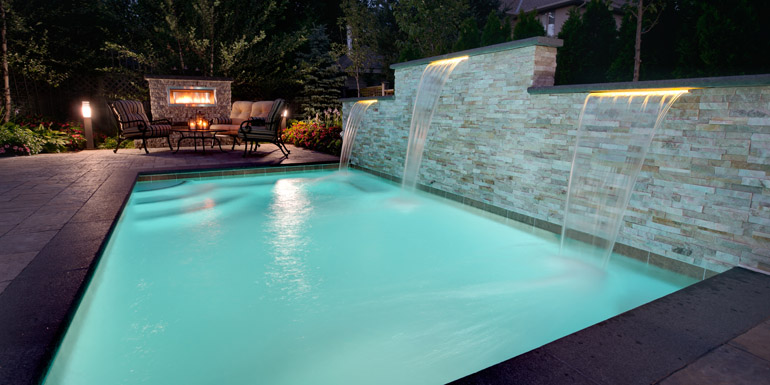 By Jason Cramp
This Burlington, Ont., homeowner was looking to create a backyard environment that would lend itself to entertaining. Despite the yard being somewhat limited in size, they turned to Burlington-based Oasis Pools Ltd., to incorporate several features to create a balanced outdoor oasis. Immediately it was determined that a full-size swimming pool would dominate the yard; therefore, a 3- x 5.2-m (10- x 17-ft) hybrid saltwater pool/spa combination was installed using gunite concrete.
This feature, together with marble-faced concrete wall spanning the length of the pool, which contains three sheer descent waterfalls and strategically placed light-emitting diode (LED) lighting, serve as the backyard's focal point. The swimming pool's design satisfies several of the client's objectives. For instance, it can be used as a conventional exercise pool, then transformed into a large hot tub with its full complement of hydrotherapy jets, while also providing the esthetic appeal of a water feature – all at the push of a button.
This multi-function capability worked to conserve space in the backyard and allowed other amenities such as entertaining/seating areas, space for meal preparation, and complementing gardens and green space. A large, multi-level, square-cut stone deck comes off the house and frames the pool. Its earth tone colour palette co-ordinates with the surrounding landscape, while bush-hammered, Chine-granite coping, and large format porcelain tile place emphasis on the pool area.
Oasis Pool (pool construction, water feature, and mechanical system) worked closely with Gelderman Landscape in Waterdown, Ont. (decking, gardens, and fireplace) to complete this backyard retreat.