By Jason Cramp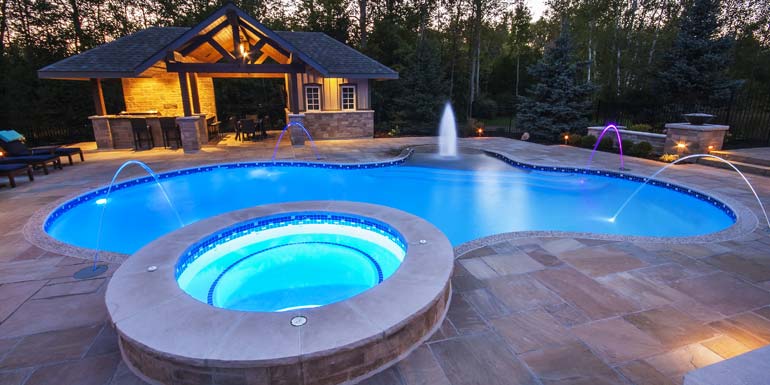 In addition to a 6.1- x 12.2-m (20- x 40-ft) freeform gunite pool and spa, built by Oasis Pools Ltd., of Burlington, Ont., several features were incorporated into this backyard project to create a lavish outdoor entertainment hub for family and friends.
Double-iron gates open up to this Milton, Ont., backyard where two large piers capped with fire bowls help to create a grand entrance. Just beyond the fire features is the pool's beach entry, which not only gradually slopes from the deck into the water, but also includes a large water fountain. Here, bathers can take advantage of a 6.1-m (20-ft) long bench/seating area in the large shallow area, while a swim-out bench is also located in the deep end, beside a 2.4-m (8-ft) raised spill-over spa. The spa's elevation was designed to bench height to create an additional seating area around its perimeter. Four, coloured light-emitting diode (LED) laminar jets were also strategically placed around the deck, which arch into the pool, while LED lights were installed in the pool and spa to illuminate the aquatics features for nighttime entertaining.
The pool was finished using white marbelite to enhance the turquois colour of the water. The pool also has a custom-patterned tile border, while all the stairs and benches are detailed with a tile stiletto to accentuate the freeform design.
To create a level area for the backyard environment, the entire pool area is flanked by a 22.5-m (74-ft) long 1.8-m (6-ft) high concrete retaining wall. All of the hardscaping features, including two backyard structures—a gazebo housing a fireplace at the far end of the pool, and a fully accessorized cabana, opposite the spa—co-ordinate with the retaining wall, resulting in a complete outdoor living space that is private and sheltered from the elements.
Finally, a backyard automation system enables all of the pool and spa functions, water features, fire bowls, gas fireplace, and landscape lighting to be controlled via mobile device.
Oasis Pools (design and construction) was assisted on this project by Nadalin Electric (lighting and electrical), Zanatta Contracting (cabana structures), Lynn Glanfield Inc. (landscape planting), and Daniel B. Masonry (stonework).