By Jason Cramp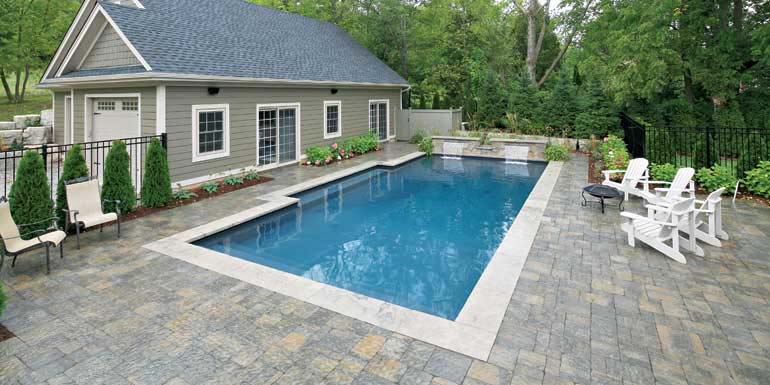 Located on the Niagara Escarpment in Burlington, Ont., it was important for the new landscape of this country property to provide a contemporary atmosphere without losing the charm of its rural characteristics.
Completed alongside the renovation of the client's 1860s partial-stone farmhouse, Poolside Fine Swimming Pools Inc., Oakville, Ont., the designers and builders of this project, took these features into consideration, using natural stonework throughout the landscape. For instance, a light-shaded 457-mm (18-in.) wide natural stone coping was used around the pool's perimeter, while larger, dark-toned paving stones were used to build an expansive patio and lounge area, which gave the space some harmonious contrast.
To complement the rustic ambience of the home's exterior finish, a 4.8-m (16-ft) long by 0.6-m (2-ft) high natural stone masonry wall was constructed along the pool's deep end, atop the deck. Two 1-m (3-ft) wide sheer waterfall curtains with a walk-through diving platform were incorporated into the tiered wall, creating function in design.
A dark vinyl liner with black trim was used inside the 4.8- x 11-m (16- x 36-ft) rectangular pool for added effect. From the house, the pool can be accessed via full-width, built-in steps, while a 4.8-m (16-ft) long, in-pool bench was incorporated into the design to enhance functionality and the family's enjoyment of the pool.
The pool area can be accessed via the home's large wraparound veranda, which offers sweeping views of the countryside, as well as through the nearby 'coach house,' which includes a bar and games room with French doors that open up to pool deck.