By Jason Cramp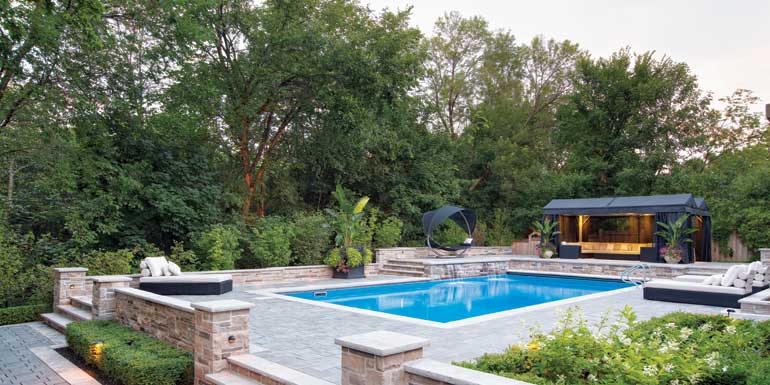 To think this urban backyard was once an empty lot is almost unimaginable. The wide property, which was sloping on one side, had to be considered to provide this family with a multi-functional entertainment space, which would include different areas that could be used year-round as well as accessed via multiple points from the house.
To create this extension of the home, Pro-Land Landscape Construction Inc., of Brampton, Ont., integrated the existing lay of the land into the project's design, providing the family with different spaces that could be used depending on the season or mood. To do this, several retaining walls and steps were installed to create a tiered, multi-level patio, allowing for a number of functional, intimate spaces to be established.
The vinyl-lined pool is the focal point of the backyard; however, its simple rectilinear design does not detract from the backyard's other features. In working with the grade, the patio is raised at one end of the pool and incorporates two sheer waterfalls. This area also includes a large canopied enclosure to provide a seating area overlooking the water. As an added measure of safety, an automatic pool cover was installed beneath the pool's natural stone coping.
The deck area that is level with the pool provides an expansive space for lounging, and a lower-tiered deck includes another seating area atop artificial turf, which surrounds a natural-stone gas firepit. A nearby hot tub, enclosed by a custom cedar pergola, is also easily accessible.
Natural Wiarton flagstone walls and steps and flamed-Wiarton coping hardscaping materials were used around the pool and patio edges to match the façade of the home. The ravine's natural green space and the design's various pockets of hedges and strategically placed planters soften the finished look.