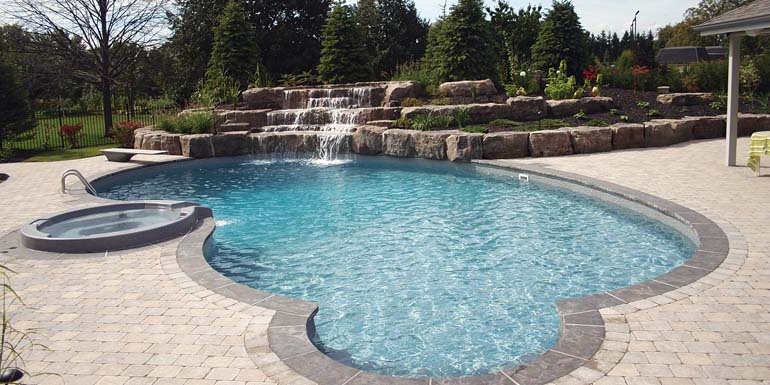 By Jason Cramp
Part of a new home construction project in the small quiet town of Kleinburg, Ont., located approximately 10 km (6.2 miles) north of Woodbridge, Riptide Pools of Kettleby, Ont., installed a 6.1- x 12.2-m (20- x 40-ft), kidney-shaped, vinyl-lined swimming pool, which would be the focal point of the backyard and the nucleus for family fun and relaxation.
Located within an upscale neighbourhood, the inground pool comprises galvanized steel walls with a grey pebblestone liner, complete with grey granite acrylic steps and a poolside spillover spa. The spa features an extended spout that allows water to gently trickle into the pool below, while the pool is also equipped with a 2.4-m (8-ft), grey granite diving board, which further adds to the pool's element of fun.
The primary feature of the installation is a 2.4-m (8-ft) high, 6.7-m (22-ft) wide waterfall. Constructed of dark armourstone boulders, this empowering water feature, reminiscent of a rushing mountain-side stream, can be controlled by the homeowner via the touch of a button to deliver a raging torrent or gentle trickle using one of various controls installed throughout the premises. In building the water feature, several 305-mm (12-in.) steel-reinforced concrete piers were used to create a substantial foundation to prevent the armourstone hardscaping, which weighs 40,640 kg (40 ton), from damaging the swimming pool's structure.
Flamed 'Sandstone' coping was used as a finishing element around the pool to complement the project's other grey-coloured accessories (e.g. liner, acrylic steps, spill over spa, etc.), while natural stone slab steps were used to complete the entrance way to the poolside cabana, which includes a full kitchen and bath. A gas fire pit, installed adjacent to the cabana, provides a unique gathering place for evening conversations, while extensive landscape lighting creates an inviting ambience for 24-7 functionality.
Furthering the swimming pool and hot tub's ease of use is an automation system that facilitates pool/spa functions (e.g. water temperature, salt chlorination system and automatic pool cleaner), along with associated timers and protection systems. A horizontally vented, 350,000 British thermal unit (Btu) low NOx gas heater was also installed to provide on demand heating capabilities.
Riptide Pools worked closely with Stonecraft Landscape Construction Ltd., in Schomberg, Ont., who was responsible for the project's finishing touches (e.g. waterfall), which incorporates natural and built elements.