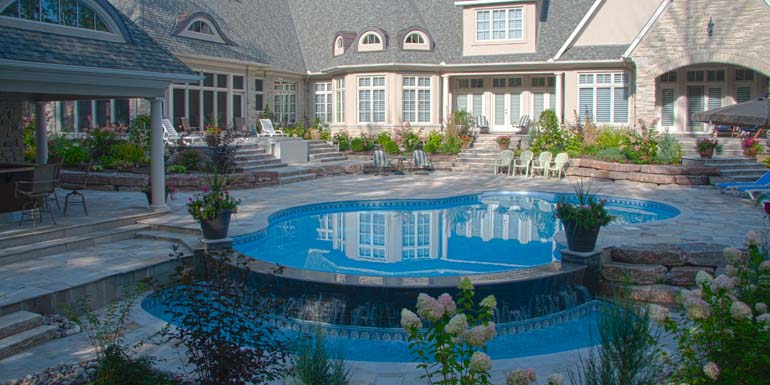 By Jason Cramp
This project, designed and built by Roger Willis Contracting Ltd., of Ottawa, was constructed in harmony with the Andre Godin-designed home, which was built by LC Contracting. The entire site is inspired by the property's location in the Rideau Forest area of Manotick, Ont.
The focal point of the backyard is a hybrid custom vinyl-liner pool with steel and cast-in-place concrete walls. The freeform design measures 7.3 x 11 m (24 x 36 ft) and has a sandblasted limestone (erosan) border with a bullnose-profile edge.
An 8-m (26-ft) spillover edge, which appears to pour into the wooded back lot of the property, was also incorporated in the design. In actuality, the water flows over a stone-finished weir wall, 0.7 m (2.5 ft) into a lower water reservoir.
The homeowner has the ability to control the pool's vanishing edge whereby transforming a subtle water feature into a dramatic waterfall. Depending on the volume of water being pumped over the vanishing edge, different variations of both sound and appearance can be achieved.
The use of sedimentary rock can be found throughout the landscape as the swimming pool area is surrounded by large limestone retaining walls (armour stone) and the pool deck is finished in square-cut limestone from Owen Sound, Ont.
Finally, limestone steps make the pool and cabana areas easily accessible from various parts of the house, including the homeowner's bedroom and kitchen.