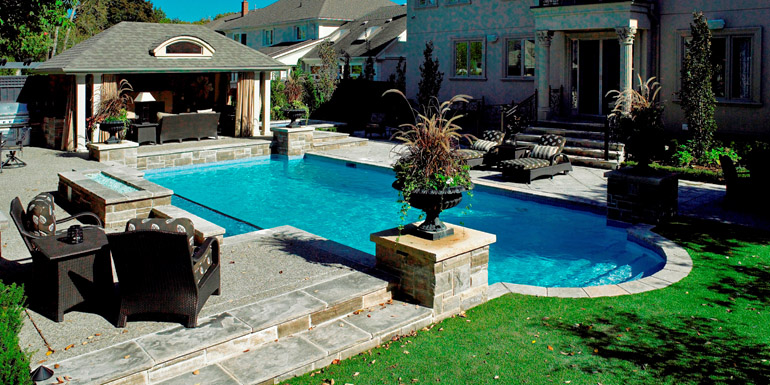 By Kristine Archer
This impressive outdoor space is the finishing touch to a home located in an upscale area of Burlington, Ont., a suburb one hour southwest of Toronto. The clients approached Solda Pools of Brampton, Ont., seeking a total outdoor living space- a seamless extension of the home in which they could entertain or relax with friends and family. Designed as a series of outdoor rooms, the space includes a 7- 12.1-m (19- x 40-ft) concrete swimming pool and 2.1- 2.1-m (7- x 7-ft) concrete spa, surrounded by ample lounging and dining areas and a full kitchen cookout. In addition, a fully decorated cabana, complete with a TV and fireplace, serves as an outdoor living room.
The client wanted the main lounging, cooking and cabana areas to overlook the pool and its amenities. To ensure everything was properly situated, the entire backyard was raised by 457 mm (18 in.). The grade change has the added benefit of making the finished backyard look larger and less crowded.
The focal point of the pool is a 5.4-m (18-ft) long basin, with a 0.9- x 5.4-m (3- x 18-ft) water feature showcasing four foaming bubblers that spill over into the pool, directly in front of a trough-style fire feature. With a graduated depth ranging from 1 to 2.4 m (3.5 to 8 ft), the pool also has walk-in steps for easy access into and out of the pool, as well as a ledge in the deep end to provide tired swimmers with a place to rest.
A full backyard plan was developed in tandem with Lakeland Tailored Landscapes, a landscaping firm serving the Greater Toronto Area, to complement the impressive amenities. Pillars surround the pool, giving the space a formal feel while providing balance to the water/fire feature. Carefully placed landscaping tempers the hard edges and stone work for added visual interest and softness.
The entire backyard can also be illuminated for nighttime gatherings. For added convenience, lighting is operated via automated controls, as is the spa, water/fire feature and all pool equipment.
Solda Pools installed the pool, spa and water/fire feature, while Lakeland Tailored Landscapes co-ordinated the deck work, cabana construction, cookout and softscaping.