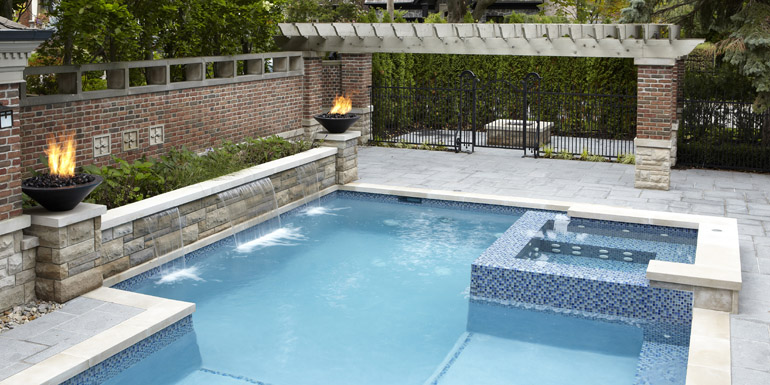 By Jason Cramp
Despite the small property, this Etobicoke, Ont., homeowner wanted to include a number of features and amenities in their backyard and called on Solda Pools of Brampton, Ont., to turn this dream into a reality. To accommodate the multiple features of this project, including a pool and spa, water and fire features, and various areas for dining, lounging, cookouts, storage, and softscaping, no space was left unturned.
In incorporating each feature it was important they not only served a purpose and each functioned on their own, but also that everything worked in unison to create a cohesive design. Although this created some challenges in designing/building the project, Solda Pools met them head-on by designing various components to either link together or intersect each other.
For instance, the backyard includes a 1.8-m2 (6-sf) concrete spa, which not only intersects the custom-linear concrete pool, but also has two sides where water spills into the 5.5- x 9-m (18- x 30-ft) vessel. Further, glass tile was used to finish the spa, as well as the pool's walk-in steps, deep end swim out, and waterline to make the pool's symmetrical lines seem transparent as well as create the illusion the spa is floating off the side of the pool. This in turn also makes the pool seem larger.
The dramatic appeal of the backyard is further enhanced by a water feature wall, which includes three water sheers that gently pour into the pool's deep end, while two large fire bowls flank both sides of the wall. The backyard is essentially a series of outdoor rooms with views of the pool and landscape/softscape features, including a partially covered, built-in cook-out area, lounging spaces, and a fire pit area.
In completing the project, flagstone decking was used throughout the backyard to further unify all of the elements, while a custom wrought-iron fence and brick wall (installed by subcontractors), which matches the home's exterior façade, enclose the property and complete the backyard space.