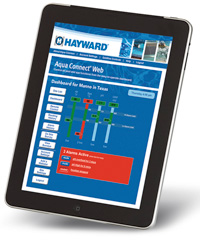 Hayward Pool Products, a manufacturer of pool and spa equipment in Oakville, Ont., is making pool maintenance easier for residential and commercial service professionals with the release of its new Aqua Connect® remote pool management system.
Designed for service professionals and operators who have multiple pools in various locations, the management system can identify problems remotely, so diagnostics and adjustments can be performed anywhere.
"Aqua Connect will change the service trade in many ways, not the least of which by increasing efficiency and competitiveness, while growing their businesses," says Greg Fournier, Hayward's product manager for automation and backyard synergies. "The Internet is seemingly helping almost everything to become more effortless these days. It was a natural step to use this technology to enhance pool maintenance now and in the future."
According to Hayward, Aqua Connect can put service professionals in direct contact with hundreds of their client's pools simultaneously. It will allow them to monitor, control and act on more than 100 pool and spa conditions, parameters and settings, from the office or the road, using a Wi-Fi-enabled device such as a laptop or smartphone.