By Jamie Novak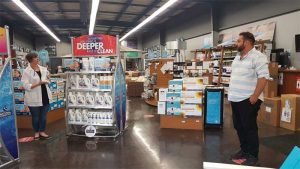 In some parts of the country, pool stores were not required to close, in other areas, brick-and-mortar retail operations switched to online purchases and curbside pick-up.
Regardless of the situation, many specialty retailers agree the pandemic forced them to rethink the layout and design of their stores. Before letting customers back in, savvy merchandisers have taken or are taking this quarantine to renovate their retail stores.
Taking the time to strategically plan the showroom's layout, and still make the retail space attractive while meeting social distancing protocols, can be extremely beneficial for business owners. Although it has been a forced renovation for most, many pool and spa retailers say their store renovations will have lasting, positive effects on the efficiency and profitability of their business.
 Using display racks and chemical buckets
Aqua-Tech Pools in Winnipeg, was one of those retail stores that completely closed their business once the stay-at-home recommendations went into place.
"We shut down our retail store immediately, by choice, for the safety of our employees as  well as our customers," says the store's manager, Kathi Belcourt.
Aqua-Tech Pools finally came around to the fact they would be re-opening the store for the summer, but the question soon became how could they pull it off while keeping everyone safe, yet comfortable in the store.
At this point, Belcourt took the opportunity to examine her retail store layout to find ways to create social distancing while still making it easy and pleasant to sell to her customers.
"Fortunately, I had already ordered some new chemical display racks that are bright and colourful, and exactly 1.2 m (4 ft) long—making them ideal for creating natural social distancing," says Belcourt.
By positioning these racks at the entrance of the store and placing social-distancing 'dots' on either end of the rack at 1.8 m (6 ft) apart, it allows store staff to comfortably speak to customers.
"By placing the rack in between us, it keeps things from feeling awkward," says Belcourt.
Similarly, Dan Lenz, manager at All Seasons Pools in Orland Park, Ill., also had to quickly decide how to reconfigure his store to make it easy to keep customers socially distant, yet keeping them moving through the store efficiently.
"We used to have our chemicals at the back of the store—much like where grocery stores keep the milk," says Lenz. "However, now we are using chemical buckets and signage throughout the store to help ensure social distancing."
According to Lenz, the chlorine buckets are especially helpful in creating aisles for the flow of customers in and out of the store. All Seasons re-opened its retail showroom in mid-May, but Lenz acknowledges the new 'renovations' are not perfect. In fact, new configurations occur daily as needs arise.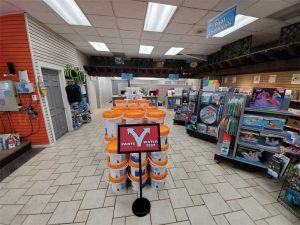 "Luckily, we have a large, covered outdoor area that acts as an extension of our indoor retail store, so we have focused largely on trying to serve and sell to our customers in this outdoor area when possible," says Lenz.
All Seasons also uses social distancing markers on the floor inside and outside the store as well as signage to help ensure safety and the smooth flow of traffic.
"Customers wait outside on the designated dots, then we bring each customer into the store with a personal shopper who helps them get what they need," explains Lenz. "When they are finished shopping, the staff member walks them out. This helps us to control the number of people in the store at all times."
Unlike Aqua-Tech Pools and All Seasons Pools, Clements Pool Service & Supplies in Mt. Dora, Fla., did not need to close their store this spring as a result of the pandemic.
"We have been open for business these past few months, so we are really adjusting our show floor layout to find ways to keep employees and customers at safe social distances as we go along," says Misty Clements, the company's owner.
Fortunately for Clements, her retail store underwent a major renovation two years ago at which time they took down walls and expanded the sales floor.
"During our renovation we did a lot of de-cluttering and opening up of space so customers don't feel claustrophobic, which has been very beneficial as we implement social distancing protocols throughout our company," she says.