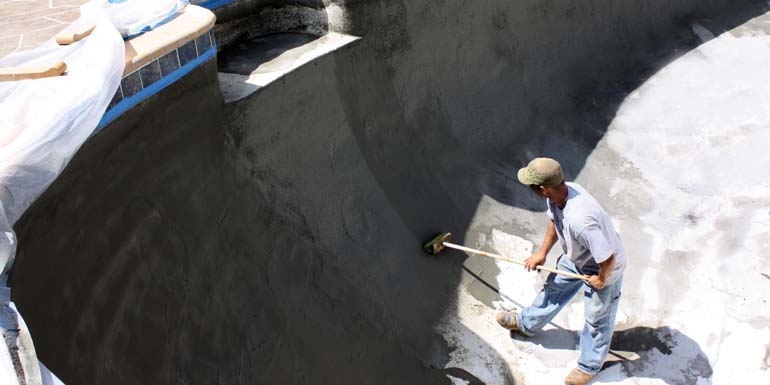 By Mike Mudrick
One of the most important steps in gunite or concrete swimming pool construction is selecting the right type of waterproofing. Concrete is a porous substrate prone to water penetration; therefore, it has to be sealed to keep water in the pool, in addition to keeping ground water out, which is often forgotten.
Every single swimming pool or water feature must be waterproofed in one way or another. Sometimes these structures present challenges and are often tricky to waterproof due to the various penetrations included in the design to accommodate elements such as lighting, piping and drainage.
There are several products on the market today for waterproofing swimming pools. Before any final decisions are made, the following information will help make material selection easier and success rates higher.
Forming a bond
Cementitious coating and waterproof barrier products tend to bond better to concrete substrates because they are similar in chemical composition and enhanced by polymer bonding agents. These products also allow various finishing options; plaster, overlays and adhesives attach better to cementitious substrates, as opposed to a pure polymer waterproof coating.
When dealing with new pool construction, cementitious coatings are not susceptible to failure from moisture vapour transmission (MVT), which is the rate at which water vapour passes through a material at a specified temperature and relative humidity. These coatings are breathable, so they can be applied just days after pouring the concrete or placing the gunite, which leads to faster turn around times. In comparison, pure polymer systems require the concrete to cure for a minimum of 28 days to prevent failure from MVT.
In swimming pool restoration cases, it is usually difficult to completely dry the substrate before waterproofing is applied. Pure polymer coating systems cannot be applied to substrates that are not completely dry, whereas cementitious products are moisture tolerant. In fact, many manufacturers even require pre-wetting the substrate prior to application.
Ease of application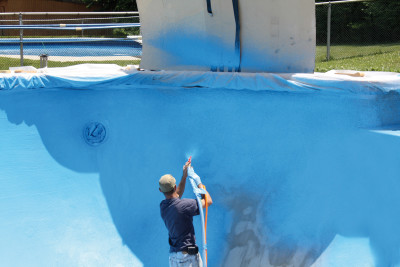 When selecting a waterproof coating, keep the project at hand in mind. Vinyl-lined pools, for example, can be more difficult to work with if they have a non-standard shape. Larger surface areas, however, can be covered more economically by using spray equipment, as opposed to applying via a trowel or brush.
If applying a waterproof coating to an irregular substrate, (e.g. artificial rockwork in a pond or waterfall feature), the ability to apply the coating via brush or roller will make it easier to ensure all nooks and crannies are covered. Additionally, coatings that can be applied by hand do not require costly sprayers or air compressors.
Appearance matters
Should the pool owner desire a specific esthetic appearance, it is important the waterproof coating or membrane allows for what the pool owner may desire. Keep in mind, not all coatings are compatible with all tile adhesives, plasters or other finishes.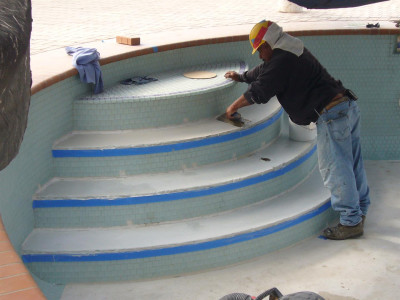 Since tiles and pool plaster are not waterproof, it is extremely important to use a waterproofing membrane beneath them to extend the service life of the pool.
The potential for leaks rises significantly when a waterproofing product is not used. Leaks can result in water loss, cause damage to the surrounding area (if the pool is suspended) and ruin the plaster/finish coat. Additionally, the rebar/reinforcing steel in a concrete or gunite pool could also be damaged.
Some cementitious waterproofing products can be used as a standalone coating and be made to look like other materials, e.g. inlaid designs or specialty tiles, by using faux-finishing techniques and metallic pigments.