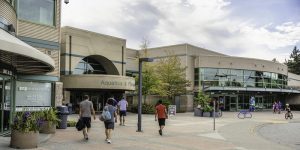 The City of Surrey has announced the Surrey Sport & Leisure Complex indoor pool will open to the public and aquatic sport teams on Tuesday, October 13 with strict health and safety protocols in place.
Protocols include designated times for lane swimming and leisure swims with modified access to amenities like diving boards and hot tub. Swim lessons and aquafit classes will be introduced in the coming weeks.
"We know how important pools are to the community for those who rely on them for exercise, aquatic sports, and therapeutic reasons, and we are thrilled to be in a position to safely open this pool again," said Surrey Mayor Doug McCallum. "It is our collective efforts in following the public health guidelines that have allowed us to safely open this facility, so it is important we stay the course as we continue to move forward and open all of our pools for the community to enjoy."
"Barring any public health concerns, the remaining indoor pools are anticipated to reopen after the safe and successful launch of the Surrey Sport & Leisure Complex pool," said Councillor Laurie Guerra, chair of the city's park and recreation committee. "We're taking the same cautious approach to opening the indoor pools as with all our recreation facilities—open gradually and carefully."
The Surrey Sport & Leisure Complex pool was selected to open first due to its central location and its capacity to handle the needs of both aquatic sport teams and the public.
In the Regional District of Central Kootenay, indoor pools in Castlegar, Creston, and Nelson are targeted to open Tuesday, October 13.
All three pools have been closed since March 16, 2020 due to COVID-19.
Once opened, users must use a pre-registered reservation process to book space in the community complex of choice. No drop-ins will be allowed.
Detailed schedules are currently being finalized and will be promoted to communities in the coming weeks. Re-opening will occur in a series of stages and will be adapted as restrictions change within the province. Some amenities will remain closed upon initial opening.
Staff are actively working on site-specific safety plans for each of the three indoor pool facilities The safety plans will include modifications on how patrons will enter and exit the facility, modified use of the pools including the flow of people within the space, cleaning protocols, adapted schedules, and more.
Non-medical masks or face coverings are now required when entering and moving through all common areas of indoor recreation facilities, except when exercising or performing physical activity. Wearing a mask combined with other important preventative measures, such as frequent hand washing and physical distancing, will help prevent the spread of COVID-19.
At this time, change rooms will not be available, and users are expected to arrive in their swimming attire and will be provided with place to store their shoes, coats, and outerwear.
Once the safety plans are finalized, these will assist user organizations in planning their use of the pool.