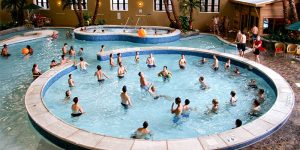 Two pool industry-related courses have received certification from the Council for the Model Aquatic Health Code (CMAHC).
Starfish Aquatics Institute's (SAI) AquaTech program is the first pool operator training course to achieve CMAHC certification.
As a provider of training, certification, and risk reduction programs to the international aquatic community, SAI's clients include waterparks and waterpark resorts; municipal pools and park districts; risk management and insurance groups; YMCAs and camps; military bases, PADI retail and resort members, and more. SAI's AquaTech Pool Operator Certification Program prepares participants to operate a pool, aquatic facility, or waterpark, in adherence with U.S. and international training requirements.
"We are proud our AquaTech program has been named CMAHC's first certified operator training course," said SAI founder Jill E. White. "This is a testament to the program meeting and exceeding the MAHC guidelines of the Centers for Disease Control and Prevention's (CDC), as well as AquaTech's value to any aquatics, park, or recreation professional in expanding career horizons."
Ellis & Associates' (E&A) vanGUARD: Aquatic Leadership program has also achieved CMAHC Certification, making the program the first-ever lifeguard supervisor course to do so.
An international aquatic safety and risk management consulting firm, E&A is known for its dedication to safe facility operations and the prevention and elimination of drowning. The firm offers various aquatic risk management services, educational programs, and trainings.
"Our vanGUARD: Aquatic Leadership program provides critical training for lifeguard supervisors, recognizing that leadership skills go hand-in-hand with aquatic safety," said E&A senior director Joe Stefanyak, senior director. "Our ultimate goal is to reduce risk and keep all swimmers safe."
Launched in 2018, the CMAHC certification program helps educate the public about products and services that meet the strict, science-based standards in the CDC's Model Aquatic Health Code (MAHC). If followed, the guidance in the MAHC helps reduce the risk for disease outbreaks, drownings, and chemical injuries at public aquatic facilities. The CMAHC awards certification to services or products that comply with the relevant or applicable standards in the latest MAHC edition.
Services or products that earn a CMAHC certification may display the CMAHC certification emblem to demonstrate they have been evaluated for conformance with the requirements in the latest MAHC edition.