By Jason Mitchell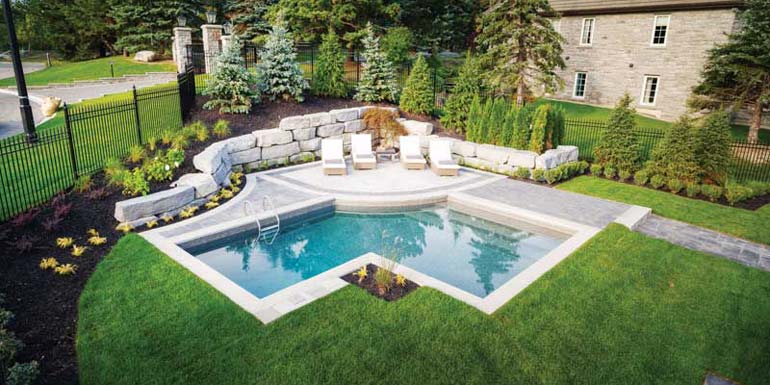 When this author first visited this project site in Richmond Hill, Ont., he was perplexed with respect to where exactly the pool would be installed. The estate was quite wide; however, it was not very deep and the property lines were irregular. Further, there were significant elevation changes throughout and the homeowner had already hired a landscaping firm to design the backyard which originally did not include a pool.
In fact, the idea of a pool installation only came up a few weeks prior to commencing the project. Therefore, to assure the homeowner a pool could be designed and incorporated into the predesigned landscape, Pool Craft, the Richmond Hill-based builder contracted to install the pool, guaranteed they would work within the limits of the small amount of space they were allotted. The pool could not take away from any other areas of the backyard.
The client was looking for a unique, non-traditional style pool; therefore, to get a better idea of what designs and features they were interested in, Pool Craft invited the client on a tour to see some of the work the company had completed in other small backyards/spaces. Over the course of this excursion, it was discovered how important the colour of the water was to the client—they wanted a very bold look. They were not interested in a traditional light or dark blue tone. They wanted a natural look similar to the Caribbean Sea which, of course, appears different depending on depth and what lies beneath the water in a particular area. This made finding the right liner even more difficult.
As it would turn out, the customer wanted an irregular pool shape and size—one the company had never built before—and a finish that would provide a very specific water colour, which at the time Pool Craft did not know if they could replicate. Further, to ensure the right liner was selected, the homeowner spent several days with various vinyl liner samples, placing them in the different pools over the course of the tour, until they found the pattern they were looking for—gold-beach pebble.
One mistake many homeowners make is having a pool installed that is too large for their property. A disproportionate pool does not leave much space for anything else, e.g. patio/deck, plantings to soften the landscape, barbecue structures or servers, and/or cabanas or pavilions. That said, visiting a friend who owns a pool is without question a great way to get an idea about coping choices, patio materials, water colour (i.e. pool finish), plantings, etc., however, the size and layout may not work for their property. The right balance of pool, patio, and green space must be considered; otherwise, the backyard will have no flow and will not be a functional outdoor living space.