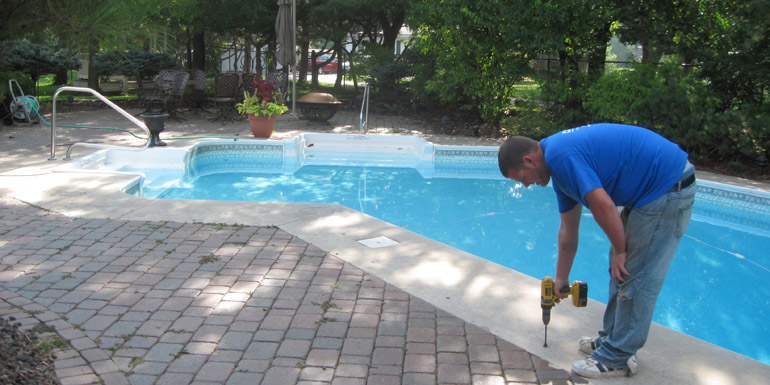 By Stephanie Smith
Shrewd service professionals are increasing their revenue streams by taking time to look around the backyard for additional sales opportunities. Rather than waiting for things to breakdown, these pros are looking for ways to upgrade the homeowner's pool experience, while at the same time increasing profits by selling cleaning accessories, replacing/upgrading old equipment, and offering advanced maintenance programs.
To afford a little more time in the backyard, many service companies are incorporating automatic and battery-powered hand-held cleaners into their maintenance routines to provide staff with an extra five to 10 minutes to look around for additional selling opportunities.
Getting started
Once a customer has signed up for a maintenance program, pool professionals generally offer a 'basic' service, which includes: pool cleaning; checking water chemistry; and ensuring pool equipment is working properly. For this service, professionals are able to charge a fee and success is generally gauged by the number of pools serviced per day, with the goal of maximizing this number.
By obtaining as many pools as possible in a tight geographic space, service professionals can not only optimize their use of time, but also maximize their revenue earned per hour. However, smart pool professionals also realize a service call cannot be rushed as other potential revenue opportunities can be missed if they do not take the time to 'look around' the pool.
Time is money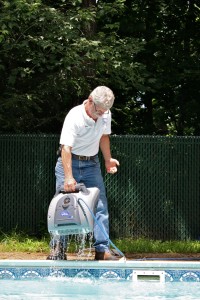 Automatic pool cleaners are a perfect example of a technological advancement that can buy time for pool professionals. By incorporating them into their routine, it provides some time to find other potential revenue sources. Rather than spending more time actually cleaning the pool surface, the automatic cleaner maintains the water, while the technician services the equipment.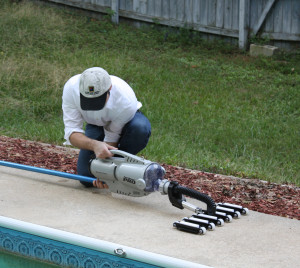 Many pool professionals are now carrying battery-powered, hand-held pool cleaners in their trucks to spot clean areas that are regularly dirty, e.g. steps and cuddle coves, which tend to accumulate and show dirt.
"Most of the pools we service are right on the beach and are always filled with sand," says Chris Morelli of South Strand Pool Maintenance in Surfside Beach, SC. "We have a staff of six and five members of our service crew use a commercial-grade, battery-powered pool vacuum to get sand out of pools.
"Using this type of vacuum saves time so we can get more pools cleaned faster. This is especially important to our business since most of the pools we clean are in rental homes during the summer, which means they need to be cleaned between renters. In some instances, we can hit one pool three to four times in a single week. By using this type of vacuum, we have much more time to pursue other business."
Backyard Vacations Pools & Equipment in Medicine Hat, Alta., is a construction company that also offers service to customers requesting help in maintaining their pool.
"We are so busy with construction projects that we need all the extra time we can get. Using an automatic pool cleaner when servicing jobs is especially important when I'm working on several pools in the same geographic area," explains the company's Russell Koch, who also uses hand-held, battery-powered cleaners when opening and closing pools. "I place the automatic pool cleaner into the pool and return four hours later. It only takes 20 minutes to put the vacuum in and take it out, but I still get my full base rate for an hour of work. It would take at least an hour if I was to remain at the pool to vacuum and clean it manually—with no need to backwash and clean the cartridges."
Dan Lenz of All Seasons Pools in Orland Park, Ill., agrees.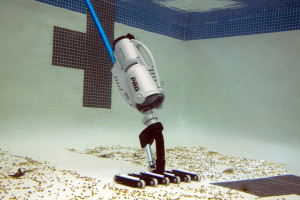 "We save at least 10 minutes per pool by using a battery-powered vacuum. Those 10 minutes allow our service professionals to chat with the pool owner about the idea of upgrading their equipment and/or take notes to report back to the store about other items that could be replaced on the pool."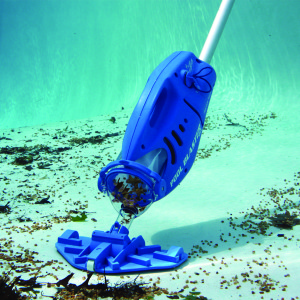 By saving 10 minutes per pool, the company, which services more than 6,000 customers annually, can yield incredible profits from replacement parts alone. According to Lenz, the top three replacements his company deals in are: changing old fibreoptic lights with new light-emitting diode (LED) fixtures; upgrading pool pumps; and installing salt-chlorine generators. For example, when a service technician has time to see the customer's pool lighting is not working properly or is emitting a very faint glow, this opens the door to contacting the homeowner and explaining the benefits of replacing their pool lighting, which will not only save electricity, but also provide better illumination, thus enhancing their nighttime pool experience.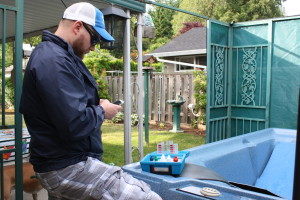 "We find that once you replace the lights, it's easier to start the conversation about using automatic control systems and other automated devices to improve their pool experience, says Lenz. "Automation systems have become a huge revenue stream for our company that simultaneously builds loyalty among our customers as we help them simplify their pool maintenance, and thus increasing the enjoyment of their pool."
Salt-chlorine generators are the top-selling replacement product for Backyard Vacations. Koch chalks this up to the fact he sets his client's expectations about how this product provides convenience and not just cost-savings.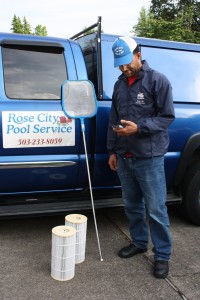 "Salt-chlorine generators improve the swimming experience for the client, while the salt units, which need to be replaced fairly often, provide a great revenue source for us," adds Koch. "Replacing salt generators yield much greater profits for our company than cleaning pools, but being in the backyard with an automatic cleaner provides us the time to service existing equipment, install a new unit, or even work on constructing a shed or gazebo."