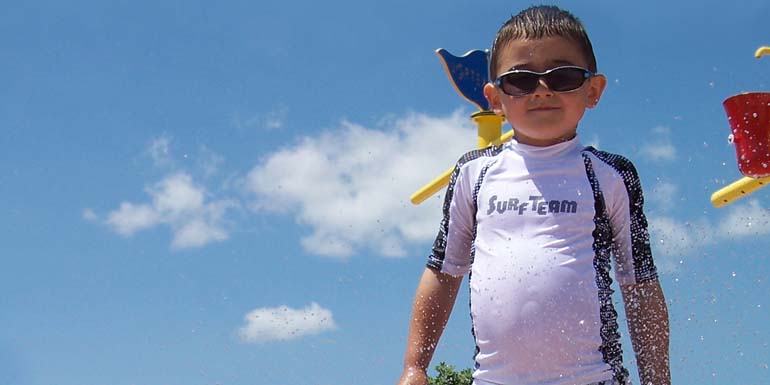 By Ralph F. Stanley, B.Sc. (EH), CIPHI,© OHS©
A new phenomenon has emerged across North America; splash pads and spray parks. These are the latest form of interactive, wet recreation (body contact recreation). Over the last several years in Canada and the United States, the industry has witnessed an explosion in the number of water-based splash pads constructed using newer forms of wet play equipment geared towards children, toddlers and adults.
Historically, public health agencies apply regulations and guidance documents geared to the protection of health and safety in public pool and wading pool applications.
In the public health field, children, toddlers and immunocompromised individuals are considered a high-risk segment of the population and thus more susceptible to the transmission and/or outbreak of waterborne disease.
In fact, the behaviour of children at play, combined with the way they use splash pads, spray fountains, water slides/rides and other wet play apparatus can directly subject them to exposure—sometimes unknowingly—through many entry points within the body (e.g. ingestion [mouth], ears, nose, eyes, dermal [skin], etc.). Health impacts include contracting a disease from pathogenic micro-organisms, such as E. coli and Cryptosporidium (Crypto). These risks can also include bacterial or viral infections of the ears, eyes, nose, throat, skin and urinary tract.
Last year, Canada and the United States experienced an increase in waterborne Crypto outbreaks associated with the use of splash pads, while outbreaks of other pathogens, such as E. coli, have also been linked to spray parks.
With the potential to expose children to waterborne diseases, the recreational and public health communities have an obligation to protect against health risks at these aquatic play environments.
Water quality is vital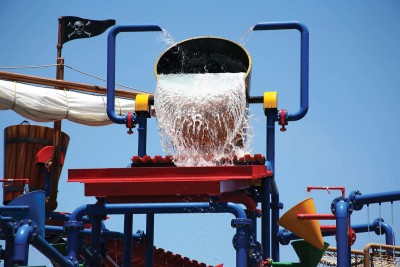 To minimize waterborne disease transmission and illness risks, as well as ensure the ongoing protection of public health and safety, water quality is of utmost importance. It is highly probable for water from various wet play equipment to end up in a child's mouth; therefore, water quality must meet drinking water standards. The number of worldwide outbreaks in recent years at various splash pads and water parks further reinforces this statement. For example, due to a Crypto outbreak in 2005 at a Lake Seneca Park splash pad in New York, nearly 2,500 people are involved in a class action lawsuit.
In 2009, as a result of the public health hazards identified, the Ontario Public Health Association (OPHA) passed a resolution calling on government to provide guidance and develop regulations to protect public health in this regard. Under section 7 of the Health Protection and Promotion Act (HPPA), the Ontario Ministry of Health and Long Term Care (MOHLTC) has the authority to publish guidelines for the provision of mandatory health programs and services by boards of health.
With that said, in April the MOHLTC released a new guidance document titled, Operating Procedures for Non-Regulated Recreational Water Facilities Guidance Document (2010),  which will be used by all 36 public health units in Ontario under the new Ontario Public Health Standards (OPHS) Safe Water Program, Recreational Water Protocol. These standards were developed to replace the existing Mandatory Health Programs and Services Guidelines (1997). This document will be used to provide guidance to local boards of health and assist public health inspectors in conducting risk assessments and inspections related to non-regulated recreational water. It will also prove to be a useful resource for public and private recreational water facility operators.