By Jakub Misiarz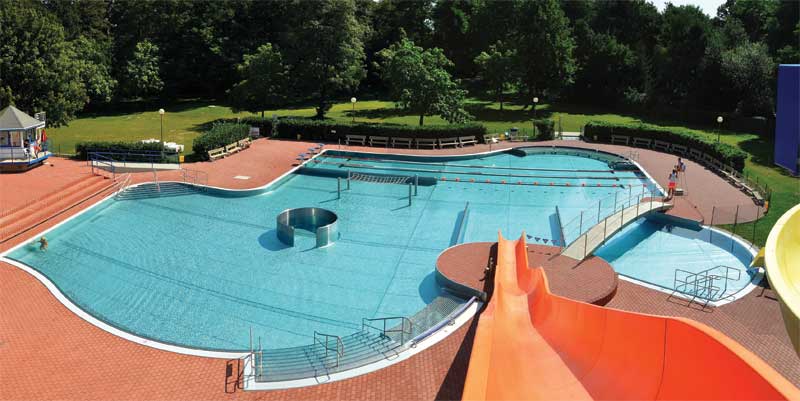 While extremely popular in Europe, current pool installation trends show stainless steel is an up-and-coming building material for aquatic applications in not only Asia, the Caribbean, and New Zealand, but also Canada. Stainless steel has been used to build pools in Austria since the '60s; prior to this, traditional, structural steel or aluminum (base metals) was primarily used. The former is a standard building material used in many construction fields, while the latter material is readily available and offers anti-corrosive properties. Despite this, aluminum is sensitive to electrochemical corrosion due to its high conductivity, which can also result in increased costs with respect to water treatment. In fact, the corrosive-resistance of structural steel is worse in the pool environment, as it can degrade faster, and maintenance is more complicated and expensive.
Today, designers/builders of modern natatoriums must consider how the pool will provide patrons maximum satisfaction, while also ensuring economic viability and longevity of the facility, in addition to making sure everything operates reliably. Therefore, due to the high cost of having to perform an annual surface treatment, stainless steel gradually replaced aluminum and structural steel as the preferred building material for public pools.
All the shapes and sizes
One advantage of stainless steel is the ability to design and install a pool comprising almost any shape and/or size, complete with various equipment and attractions, such as tubular or solid stainless steel massage chairs and loungers, gutter spouts, water gushers/goblets, and counter-flow stream systems. Classic rectangular pools with few accessories are typically reserved for lap pools and small therapeutic or rehabilitation vessels.
Development and innovation in the field of stainless steel pools is ongoing. In fact, construction and installation methods, along with hydraulic systems are constantly evolving. New attractions and pool components for entertainment, recreation, and relaxation are continually being developed, as well. For example, professional lap pools, which are designed and built to International Swimming Federation (FINA) standards, now include elements such as slip-resistant front walls and electrochemically painted strips added to the pool floor. At the same time, attractions such as air-bubbling loungers, water features, and foot massage jets are being incorporated into more recreational pool facilities.



The modernization of stainless steel pool construction along with their related accessories is a result of changing health and safety requirements, in addition to the cost of materials. In Europe, for instance, strict standards for stainless steel pools focus on water treatment and circulation, as these systems greatly depend on the pool shell to operate efficiently. Stainless steel pools use a sophisticated floor channel system, which constantly pushes freshwater parallel to the pool floor to ensure water is recirculated throughout the entire pool. This system is enhanced with the installation of overflow troughs around the pool perimeter.
One of the main advantages of using stainless steel in pool construction, however, is its smooth, joint-free and non-porous surface. The material offers great hygienic properties and, at the same time, reduces operating costs due to reduced chlorine consumption.