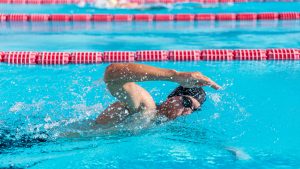 Swimming Canada has confirmed it is holding the Olympic Swimming Trials from June 19-23 in Toronto.
Swimming Canada announced changes to the trials last month, cancelling the Paralympic portion, and postponing the Olympic Trials by a month due to the COVID-19 situation in Ontario and other provinces.
"The organization has explored several options, including holding the event elsewhere in North America. Each scenario comes with its own positive and negative factors, but we believe holding Olympic Trials in Canada at our premier pool in the Toronto Pan Am Sports Centre is the best option," said Swimming Canada CEO Ahmed El-Awadi.
Swimming Canada, in partnership with Swim Ontario, has prepared a 37-page event safety plan. Strict risk mitigation protocols will allow high-performance swimmers to compete for spots on Team Canada.
"We have confirmation from Toronto Public Health that the event can proceed under the exemption implemented by the Government of Ontario. We are working with our partners at the City of Toronto and Toronto Pan Am Sports Centre to ensure this will be a safe event that gives us the opportunity to select the best team to represent Canada," El-Awadi said.
Swimming Canada had previously announced that events at the invitation-only trials would be contested as timed finals only. Swimming Canada is now working towards a plan that will include preliminary heats and finals for distances 200 m (656 ft) and shorter, with timed finals for distances 400 m (1312 ft) and longer.
Meanwhile, officials continues to review and adapt plans for Olympic Games preparation following the trials. The team had been scheduled to travel overseas in early July for a staging camp in Toyota, Japan, which hosted Canada's staging camp ahead of the 2019 Fédération Internationale de Natation (FINA) World Championships in Gwangju, South Korea. Instead the team will convene in Vancouver before travelling directly into Tokyo.
Following trials, selected swimmers will return to their home programs for several days before the camp. The team will train at the University of British Columbia Aquatic Centre, home of the High Performance Centre–Vancouver.