By Marie Lewis
The Marina Bay Sands in Singapore is not an average hotel. The 55-floor structure is the country's first integrated resort, comprising three sloping towers connected at the 23rd floor to create a single building. The Sands' many amenities include 2,561 rooms and suites, a casino, nightclubs, 74,322 m2 (800,000 sf) of retail and dining space and two theatres.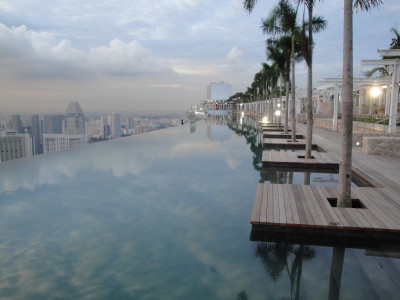 Sitting atop this impressive building is the Sands SkyPark, a 1.2-ha (2.9-acre) tropical park with even more features and amenities. This unique structure spans the width of all three soaring hotel towers 200 m (656 ft) above the ground and has a 56-m (183-ft) cantilever edge. It is 340 m (1,115 ft) long from the northern tip to the south end, and 40 m (131 ft) wide. It contains 7,815 tonnes of permanent steelwork; an additional 4,483 tonnes of temporary steelwork was used in the construction.
When the Las Vegas Sands Corp., and architect Moshe Safdie were awarded the bid for the Marina Bay Sands, they called upon Natare Corp., in Indianapolis, Ind., to build and install the water features slated for the SkyPark—an infinity-edge stainless steel pool, three large hydrotherapy spas, a wading pool and a reflecting pool—all 55 floors above the ground.
The basics
In keeping with the natural marine backdrop of the resort and its exotic locale as a destination for world business and leisure travellers, the resort incorporates a number of nautical elements and themes, and the SkyPark, appropriately, appears to float like a ship across the top, and the pool literally spills over an astonishing vanishing edge.
At 146 m (478 ft), the SkyPark pool is the world's largest infinity-edge pool at that height. It comprises 181,437 kg (400,000 lbs) of stainless steel and can hold 1,438,456 L (380,000 gal) of water. It took approximately two days to fill the pools, at a rate of about 25 mm (1 in.) an hour. The design flow rate through the pool's pump system is 21,603 litres per minute (lpm) (5,707 gallons per minute [gpm]).
The pool interior is finished with 254,000 ceramic tiles adhered directly to the stainless steel shell. All of the pool components were designed and fabricated at Natare's Indianapolis plant, shipped in more than 30 ocean freight containers and assembled on site under Natare's supervision.
Space limitations
Ideally, raw materials could be shipped and field-fabricated to create the structural framing system on site. In this case, crew members shared a very restricted space with multiple contractors on a construction site in the sky, so they developed a plan to prefabricate all of the components in Indianapolis and stage overseas shipments and site deliveries. These components obviously had to be shipped at very specific times throughout the course of the project.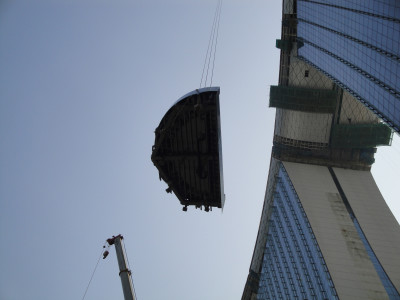 As part of this logistical plan, each pool was successfully divided into unique segments. Then, those segments were broken down further in order to create sub-assemblies that could then be hoisted to the top of the towers via crane or service elevator, eliminating the need for extensive on-site welding and fastening tools to construct the shells. In all, 40,000 pieces were used to construct the pool enclosures; these pieces were condensed to fewer than 2,000 sub-assemblies to stage, identify and assemble on site, including:
2,036 slab anchor bolts;
496 adjustable jacks;
275 floor support beams (or plate girders);
285 floor panels;
10 stair sub-assemblies;
four pre-fabricated under-terrace walls; and
two fixed terraces, each constructed from 27 panelized sub-assemblies.
The infinity edge of the pool comprises 36 wall segments, 30 sub-assemblies and six end-wall sub-assemblies.