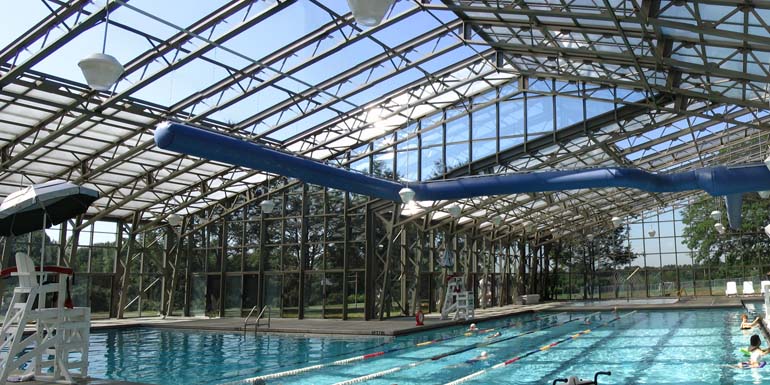 By Mark Albertine
Green building is growing and sustainable construction is quickly becoming the new norm. The aquatics industry is following suit, as it moves into an era of smart, efficient structures that are not only great for long-term budgets, but benefit both users and the environment.
Pool owners, property managers, architects and builders are increasingly thinking about the impact of today's choices on future generations and as such, the demand for environmentally sensitive construction and Leadership in Energy and Environmental Design (LEED) certified projects is growing fast.
There are several ways to make an aquatic building greener, such as installing solar panels to heat water, using local materials to reduce the facility's carbon footprint, tapping into geothermal energy and incorporating recycled material. In addition to these methods, covering the aquatic centre with a retractable roof enclosure, which lets in fresh air and sunshine, not only helps to create an inviting environment that can be enjoyed all year round, but can also make any aquatic project more sustainable. If the builder's goal is LEED certification, a retractable roof enclosure can be a great way to help qualify the project for a significant number of credits.
What is a retractable roof enclosure?
Imagine an outdoor pool that turns into an indoor pool at the touch of a button. Retractable roof enclosures allow bathers to swim outside in the warm sunshine and splash around indoors when it is cold or raining. During the summer, opening the roof ventilates the space naturally and lets in the sun, while on cooler days users can still enjoy natural sunlight and outdoor views under the closed roof.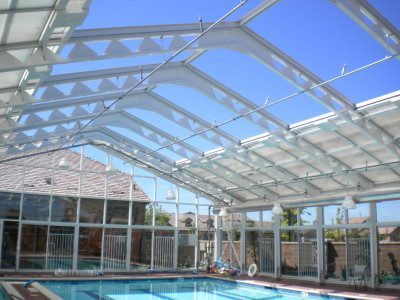 Retractable roof enclosures are available in a variety of shapes and sizes. They can also be custom designed and engineered to meet a particular vision. Enclosures are quite different than the cement structures that normally envelop an aquatic facility, as they offer several design possibilities. For example, in addition to an operable roof, an enclosure can also include sidewalls that open partially or completely to let in even more fresh air.
Depending on the project, sidewalls can open to an exterior environment like an outdoor play area or a backyard dining space in residential applications. Panels are typically made of polycarbonate or glass (depending on the application and budget) and fit with any décor. Wood, stone, slate, standing seams, stucco, block, brick and other materials can be incorporated into the design.
In aquatic applications, an aluminum framing system is highly recommended. Aluminum withstands caustic pool chemicals and does not require repainting or replacement in the way a more traditional structure would require.