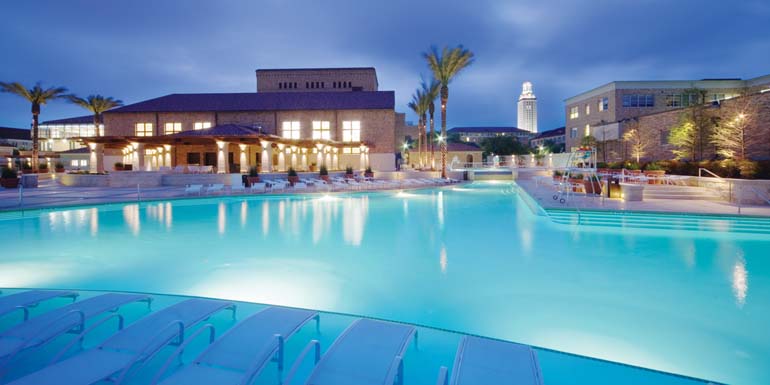 By Randy Mendioroz
From a designer's perspective, aquatic facility owners and operators can at times have unrealistic expectations when it comes to the development of pool amenity areas. For those contemplating a new project or the renovation of an existing facility, the following issues should be considered:
How to develop a vision for the project;
How to 'right-size' your pools; and
Current trends within the industry (to avoid having a dated facility on opening day).
For vision and right-sizing, this article will focus on private sector resort amenity areas. The lessons learned within this industry segment can also be applied to public sector aquatic facilities.
Develop a vision
According to Ron Van Pelt, senior vice-president of WATG Architects in Irvine, Calif., "It is essential to have a client representative who can translate the project vision and is an effective communicator between the design team and ownership group."
The owner's representative should be able to provide a true vision of what is desired in order to be truly helpful to the design team. Pictures or images of other aquatic facilities that may have inspired the project are particularly valuable in developing design schemes.
The more information the design team has, the less time is needed to develop design concepts, thus making it easier to turn the project's vision into a reality. Answers to the following questions will also help:
Is a naturalistic environment preferred, or is a contemporary look more appropriate?
Do the pool amenity areas need to complement the building architecture?
What types of finishes are preferred?
Is there interest in any special features?
Right-size the project
Ed Linquist, an associate principal with EDSA, an international planning, landscape architecture and urban design firm, says, "The biggest challenge in implementing any project is getting the vision to match the budget. Good programming is essential to ensure the project, when built, actually resembles the owner's original idea."
As the cost of a swimming pool can range approximately $1,250 to $2,500 per m2 ($125 to $225 per sf) of water surface area, holding a tight rein on pool size and quantity is extremely important in keeping the budget intact. When it comes to swimming pools, keep in mind most leisure and recreation patrons are actually 'dippers' rather than swimmers. What this means is the amount of time actually spent in the pool is limited. For example, only three to five resort guests out of 100 will actually consider swimming laps—the other 95 per cent are more interested in a comfortable chaise lounge for reading.