By Bruce Riley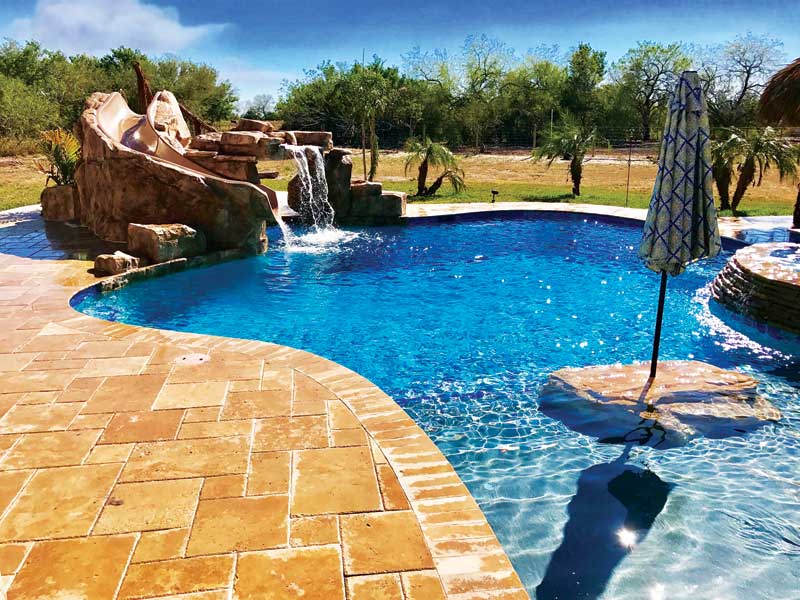 Water features are now a part of almost every outdoor living space. They are found on pools, spas, ponds, and even as standalone components. The subtle noises made by even the smallest water feature can fill a space wonderfully with soothing sounds, which conjure up memories of streams and waterways that many homeowners may have experienced throughout their lifetime. Being able to create tranquil sounds of flowing water has become very important in today's backyards. However, beyond the tranquility, water features can also provide practical solutions for homeowners trying to block out unwanted sights and sounds. Whether it is the hum of nearby cars or the fact a client's backyard looks directly into the neighbour's garden, water features are now often incorporated into landscapes by designers and builders to mask these unwanted noises and visual eyesores.
Water features as noise barriers
The most successful designers and pool builders are the ones who take the time to walk the entire property and sit in the backyard with the customer for as long as possible. The goal is to get a sense of how the client (and their neighbours) use their yards.
Many backyard designers are seeing how new housing developments often have smaller yards that back onto multiple other properties. For this reason, it is very important for builders to ask questions about how the client and neighbours use their backyards. For example:
Are there any dogs or children?
Is there a trampoline or basketball net on an adjacent driveway or patio?
Where is the neighbour's patio located?
How close is the neighbour's driveway?
Is there a busy road near the property?
"I find once I start asking questions about nearby vehicular sounds or noise from neighbours, the client often reveals their desire to try to cover them up with the soothing sound of moving water," explains Dan Lenz, vice-president of operations at All Seasons Pool & Spa in Orland Park, Ill.
Lenz recalls one client's backyard which abutted the neighbour's driveway: "The home was so close you could get out of your car and fall into the neighbour's pool. As a result, the client mentioned how the sound of the neighbour's car starting and doors slamming was quite annoying while they were trying to enjoy their pool."
In cases like this, using 'white noise' components are essentially a way to disguise sounds. These features do not reduce noise levels in the backyard, but, instead, they mask some of those that are less desirable (e.g. from traffic or from the neighbour's kids yelling) by introducing more soothing sounds. The best example is the gurgling sound made by a backyard water feature.