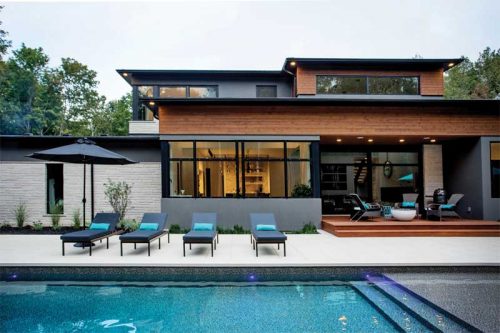 This backyard, set against a rural backdrop in Shanty Bay, Ont., strikes a harmonious balance between modern and rustic.
It features contemporary finishes that blend naturally with the non-symmetrical softscape elements to create a cohesive outdoor living environment for entertainment and exercise.
The property has a steady slope from the rear deck down to the treeline; therefore, additional fill was brought in two years prior to the installation and graded properly to allow it to settle. The multi-level space includes several feature areas such as the firepit, located in the low-lying land, which was created using granite boulders and softscape for retention. The same idea was replicated on the opposite side of the property, where the pool shed was installed at a lower level to be kept out of sight from the overall view of the backyard.
The elevated patio offers scenic views of the
5.5- x 12.9-m (18- x 42-ft) large rectangular pool which has an integrated 2.4- x 2.4-m (8- x 8-ft) fibreglass spa.
The raised spa structure includes a sheer descent that mimics the look of a spillover unit without having heat control issues.
The large deck surrounding the pool and spa can accommodate large social gatherings, while the pool's tanning ledge offers additional space for lounging and sunbathing.
A shared circulation system, running on time clocks, alternates between the two water bodies, while an extra pump installed for the spa's therapeutic jets runs separately.
All components of this pool and spa installation were completed by Blue Diamond Pools with landscaping assistance from Drysdale's Nursery.
— Jason Cramp