By Jason Cramp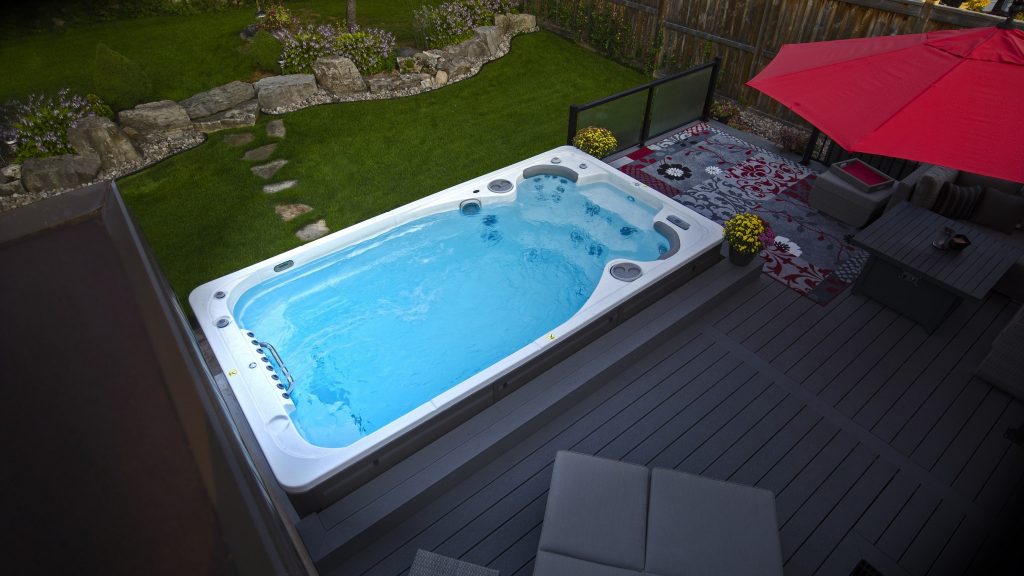 This sleek, simplistic, and streamlined backyard project by Hydropool Retail Group, in Mississauga, Ont., was carefully designed to provide this homeowner an enjoyable, four-season urban oasis.
To do this, Hydropool collaborated with the client and other contractors involved on the project to craft various elements, which work in harmony to create a sublime setting where the 2.4- x 4.3-m (8- x 14-ft) swim spa is nestled into place in this charming backyard.
This swim spa appealed to the homeowner for its greater size and capability of accommodating a large number of people. Features such as stunning light-emitting diode (LED) lights and accenting LED waterfall add to the appeal of nighttime entertaining. When the fun is over, the swim spa also provides the family the perfect home gym. The adjustable swim current allows bathers to concentrate on their swimming technique at their desired level, while the anti-slip floor permits a variety of fitness training exercises to be performed in an environment where they can even personalize the water temperature settings.
The swim spa can be accessed from two sides via a small step off the deck from the home, which overlooks the landscaped backyard. The deck provides ample space for lounging and entertaining spa-side. A transparent deck railing aligns with the edge of the swim spa and offers the homeowner an unimpeded view of the surrounding landscape.