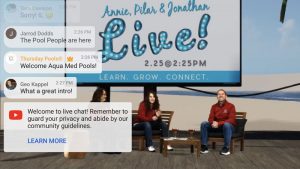 Fibreglass pool manufacturer Thursday Pools recently held a virtual dealer event this year using Unreal Engine integrated with Brainstorm 3D. 
Unreal Engine is a game engine developed by Epic Games—the same technology used in such shows as The Madalorian on Disney+.
"It turns out that Thursday Pools is the first manufacturer to ever use this technology for a virtual event," said Pilar Losada, director of sales, marketing, and public relations. "We worked with      Media Fuel, our local agency, who is the only agency in the Midwest using this technology."  Unreal Engine and Brainstorm 3D allow users to create virtual sets, photo-realistic renderings, animations, and more all in real-time. Then, combined with Open Broadcaster System (OBS), live broadcasts are streamed out to YouTube, Facebook Live, Zoom, and other channels.
Thursday Pools and Media Fuel set up a 9.1 x 9.1 m (30 x 30 ft) green screen to accommodate the real sets with virtual sets.
"We attended several other virtual events this past winter, but none were as interesting and relevant as the one put on by Thursday Pools," said Michael Berggren of Berggren Pools in Wenatchee, Wash. "Seeing everything and everyone simultaneously on the screen made the event feel more like when we all get together at the factory each year."
Thursday Pools was able to provide training and scenes from the manufacturing floor while dealers were also able to visually share information across a huge screen.
"It was very exciting to work in the Unreal Engine platform and there are definitely some features in this technology that we can use again in the future, especially for dealers who aren't able to attend our live event," says Losada. "This year, Thursday Pools had more than 290 registered attendees at the time the event went live so it was an incredible success."