Thursday Pools is in the final stages of constructing an additional 4645 m2 (50,000 sf) of space to provide a climate-controlled, environmentally-friendly indoor facility for its growing manufacturing operation.
This follows two previous expansions in 2018 and 2019. Additionally, the facility has expanded its outdoor 'pool loading' area to facilitate faster, more efficient shipping of its products across Canada and the U.S.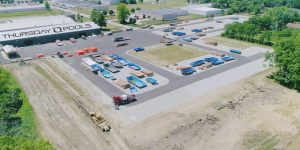 This expansion gives the company more than 4.8 ha (12 acres) of dedicated pool storage space. Thursday Pools now offers more than 35 different fibreglass pool moulds, all designed and built in house. The expansion is to help ensure faster turnaround of the ever-increasing demand for the company's products, including its exclusive sunken-living area fibreglass pool that was introduced this year.
"This has certainly been an adventure," said Bill Khamis, Thursday Pools CFO. "This is just the next step for us to support our dealers and meet the exponential demand for fibreglass pools."
The expansion will result in more than triple the company's original total production and storage space including a dedicated manufacturing area to produce the shells for the company's new sunken living area pools and new smaller sized pools and spas.
The company was also recently awarded a $25,000 grant from the Indiana Department of Environmental Management (IDEM) for a pollution prevention system under development at its manufacturing facility.
Specifically, Thursday Pools has designed and developed a gel coat gantry robot which automatically sprays gel and barrier coat on its fibreglass pools. The system optimizes gel and barrier coat application, therefore reducing emissions and improving quality.
"We are very pleased to have been awarded the grant since it helps offset some of the costs associated with the installation and training. This new system will reduce environmental emissions, improve quality, and operational efficiency," said Khamis. "We appreciate being supported and recognized by the State of Indiana for our environmental stewardship initiatives."