Products for minimizing risks
When it comes to slip-and-fall injury prevention, there are many safety products available from reliable manufacturers to help minimize risks of injury at aquatic facilities. A qualified, knowledgeable supplier can provide sound advice on what products work best to reduce or eliminate slip-and-fall injuries. Before selecting a product, however, ensure it has been tested and approved by an independent testing laboratory.
Anti-slip tapes, grit, resilient and vinyl
Commercial-grade, self-adhesive, anti-slip tapes—available in clear and multiple colours—are specifically made for the aquatics industry. They are barefoot friendly and can be applied in various areas such as handicap access ramps, diving boards, and stairways leading to diving platforms and slides. Some also conform to uneven surfaces, are resilient and are available in sheet format to replace loose mats.
Photo luminescent (glow in the dark) and reflective formats are also available, which help to ensure safety during power outages as well as in low-light areas. As no curing time is required, anti-slip tapes are low-cost, easy-to-apply products that can be used to help prevent many potential hazards without disrupting the daily activities of a busy facility. They are manufactured in a large range of widths—from 25.4 mm (1 in.) to 1.2 m (4 ft)—and available in clear and/or various colours (e.g. black, safety yellow, yellow/black diagonals).
Anti-slip coatings and treatments
Anti-slip coatings are available in both water base and industrial-epoxy formats. Water-based coatings are available in clear and tinted applications and can be used on wooden decks surrounding various aquatic amenities. Heavy-duty industrial-epoxy coatings can be used on concrete, steel and other similar floors that are subject to heavier traffic. Both coating and treatment products can be applied quickly via roller.
A range of indoor/outdoor water-based chemicals and coatings, which impart anti-slip properties onto natural stone tiles (e.g. granite, porcelain, slate, quarry tile, ceramic, marble and concrete) are also available.
Unlike coatings, anti-slip treatments will not peel. These products can be applied directly to a ceramic, porcelain or mineral-based deck surface using a special applicator (i.e. lambs wool) and kept wet on the surface for approximately 15 minutes before rinsing with water. With good housekeeping, facility operators can ensure the effectiveness of one anti-slip treatment application for up to five years.
Facility downtime is minimized as cure time is typically not required. In terms of ongoing maintenance, facility operators must keep the deck surface clean to prevent the buildup of soil and grease. An effective cleaning regiment is crucial.
Monitoring slip resistance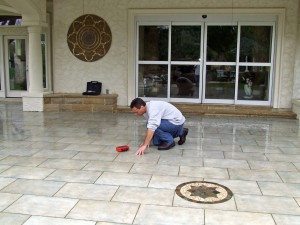 To ensure pool deck areas and walking surfaces are in constant compliance with safety standards, facility operators should use a portable slip meter to take regular readings. These meters are well worth the investment and help make testing simple. By documenting regular readings, a facility can confirm its efforts in maintaining slip-resistant standards should an injury occur. If ongoing readings are found to be non-compliant, the unsafe surface should be corrected without delay.
Leon Altman is the technical director at No Skidding Products Inc., a manufacturer and distributer of slip-resistant products in Toronto. He can be reached via e-mail at leon@noskidding.com or by visiting www.noskidding.com.