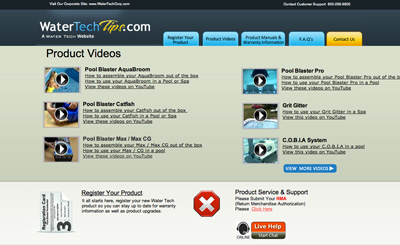 Water Tech Corp., a manufacturer of battery- and robotic-powered swimming pool cleaners, has made it easier for dealers to help consumers with its new 'how-to' video series.
Videos are available for the company's complete line of pool and spa cleaners—from battery-powered vacuum wands to its robotic cleaner units—each one demonstrates everything from out-of-the-box assembly to product operation to help consumers maximize efficiency when cleaning their pool and/or spa.
The videos can be found on Water Tech's website (www.watertechtips.com/videos-main.htm) and are designed to help dealers provide customers with immediate 24-7 assistance.