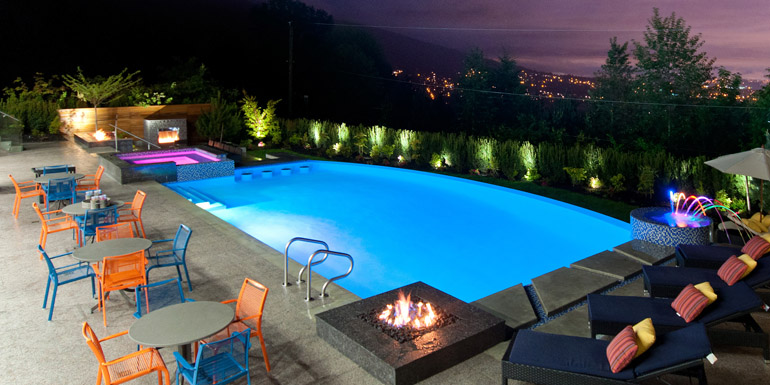 By Greg Fournier
Imagine giving customers the ability to sit poolside on a warm summer evening, touching a familiar screen, and bringing their backyard to life in a way that suits their particular mood. One tap of their finger can transform their outdoor living space to reflect an ambiance or theme that matches the way they felt during that particular evening. Builders have made this possible by creating pre-programmed themes to match holidays, a romantic evening, a neighbourhood get-together, a kid's birthday party, or a relaxing atmosphere for simply hanging out.
Prior to this, changing themes was accomplished via any number of remotes or buttons manufacturers built to make customization easier. Today, manufacturers are spending their resources, time, and efforts to enable more common devices (e.g. smartphones, tablets, etc.), which more people are using every day, to offer these same controls.
No matter the swimming pool and/or hot tub configuration (i.e. design), remote pool management is available to help make the owner's life easier. In the past, it was often said: "Who on earth would own a swimming pool and not have a remote to manage their backyard features and environmental harmony?" At the very least, pool owners would use a remote to turn lights on and off. Now, with the advent of technology, the expectation is changing to "who on earth would not use their mobile device to control their pool, manage their water chemistry, and automate their backyard environment?" Regardless, to make all of this possible, remote pool management is required.
The current market
The industry recognizes the majority of high-end swimming pools are outfitted with automation systems, and close to half of mid-range swimming pools are now designed with a controller. Some manufacturers have even developed entry-level, aftermarket controllers to replace dated time clocks. That said, most swimming pool owners are still handcuffed to the manufacturer's required remote options; however, these same manufacturers are racing to deliver better, more convenient options for remote pool management.
Closing the sale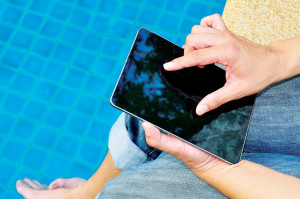 Automation has long been expected on high-end swimming pools; however, it is not always an easy sell. The hardest thing to sell customers—especially in the mid-range market—is the need for remote pool management and the fact it can actually save them money down the road. Many builders have oversold features and ease of usability, or in some cases talked the technology down to clients simply because it can reduce the need for backyard service. However, once pool owners understand how it can truly save time and money, they are typically onboard.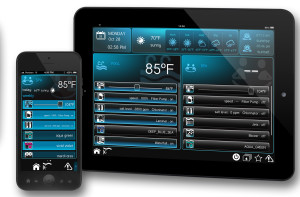 At the very least, controllers give homeowners the ability to run pool and/or hot tub equipment, turn lights on and off, adjust temperatures, and simplify the necessity of turning valves to operate their pool and hot tub. Not having to walk to the equipment pad and manually turn valves is definitely a big selling point.
Keep in mind this is only the basic functionality of automation and remote pool management. For instance, homeowners can set varying schedules and groups of functions or commands to happen automatically, or with the touch of a button.
"We started with automation three years ago," says Kim Harper of Mudslinger Pools in Indianapolis, Ind. "Our biggest selling point, especially with previous pool owners, is they're not out there testing the water every day, and they'll never open to a green pool. Customers call us back after a couple months and ask if there is something wrong because their water is so clear and they haven't had to touch anything since we installed the automation system.
"I love building pools with automation systems for people who are familiar with them as they understand how much they save all around and how little time they spend maintaining the water."
Installation and programming
In general, automation, and especially remote pool management installation, can be tricky and time consuming. Builders often set all of their pools based on a template configuration, leaving the homeowner to do their own customization, or they comeback to program the settings later. The automation systems that are available today were developed to make pool and hot tub ownership easier, but many times, they can be anything but easy to use, never mind the programming aspect.
"To fully learn the ins-and-outs of programming the current control system I use, it probably took me four to six months in the field," explains Harper. "Pool builders live with what is available, basing their controller selection on the product that is the least difficult to work with."
The frustrations of working with some current automation systems have led to exciting innovations in this space. The manufacturer that delivers a controller that makes it easier for the builder, service professional, and end-user will ultimately revolutionize the industry. The same could be said for the builder—the one who makes it easier for their customer to use their pools will win the lion share of their local market.