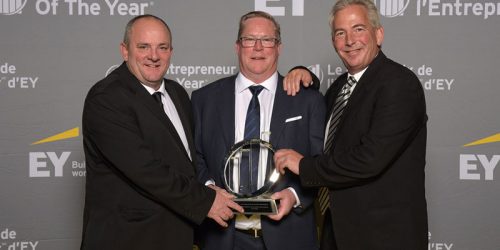 Arctic Spas has won the Ernst & Young (EY) 'Entrepreneur of the Year' award (Prairies region).
Darcy Amendt, Dennis Kellner, and Brent Macklin were presented with the award. The company's entrepreneurial vision began in 1994 and has evolved in 2005 to include a one-of-a-kind hot tub controller connected through mobile applications and the company has continued to grow by developing new product lines using innovative technologies.
"This isn't Arctic Spas first time competing—they've been winners in the program before and we're excited to celebrate their achievements again," said EY Entrepreneur of the Year Prairies' program director, Rob Jolley. "Since winning the 'Prairies Manufacturing' category 14 years ago, Darcy, Dennis, and Brent have sanctioned a complete redesign of their product line, including revamping the spa body components, and rethinking manufacturing processes and logistic systems to improve customer lead time delivery."
The company will go on to compete with top entrepreneurs from the Pacific, Ontario, Quebec, and Atlantic regions for the national honour of 'Entrepreneur of the Year,' which will be presented at a gala celebration on Nov. 28 in Toronto.
In June 2020, Canada's EY Entrepreneur of the Year will move to a bigger stage to compete with more than 50 country recipients for the world title.