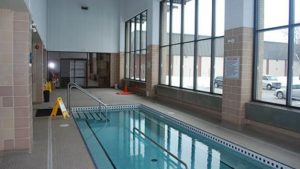 A historic pool in Windsor, Ont., could see its end after city council approved a plan to 'reinvent' the Adie Knox Recreation Complex.
The plan would see the city investing $42 million in the complex, including a splash pad. However, it would include the closure of the facility's 51-year-old pool as well, as reported by The Windsor Star.
According to the report, residents have been fighting the closure of the pool for almost a decade as plans for a new downtown aquatic centre on the campus of The University of Windsor have floated around.
Rene Jacques, a member of a group called Friends of Adie Knox, said the closure of the pool would mean a loss of diving as well as the city's only therapy pool.
As per The Windsor Star's article, city officials estimate they will save almost $15 million over 20 years by closing the pool.
Windsor city council member Fabio Costante had put forth a motion that would have left a chance to save the pool pending a decision on the city's application for a federal grant. However, it was defeated.