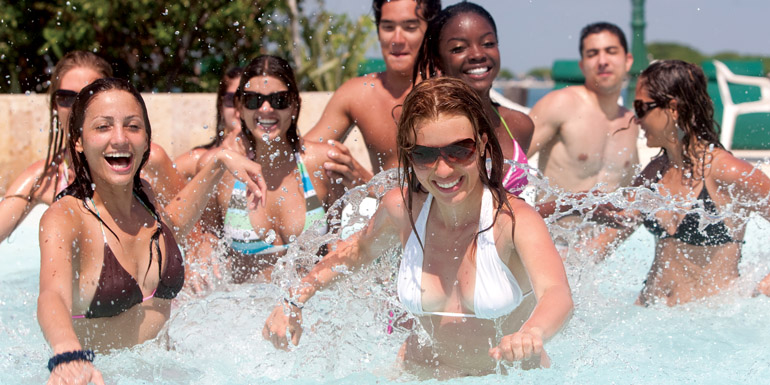 By Dave Callahan
Recreational water illnesses (RWIs) are always a hot topic of discussion at the end of summer when higher bather loads at commercial aquatic facilities force filtration systems to work overtime to keep pool water clean and clear. Unfortunately, there are always outbreaks—some bigger than others, which everyone hears about via mainstream media. This article is not going to discuss the graphic descriptors of these microscopic invaders, but rather look at the methods for destroying and keeping these bugs out of pools.
Cryptosporidium (Crypto) outbreaks happen every year. Usually by mid-July and early August, news media have reported outbreaks that originate in commercial aquatic facilities. Unfortunately, traditional chlorine disinfection systems are not enough to battle Crypto, which are highly resistant to chlorine (Cl) and can linger in a pool for up to a week. When bather loads are high and users are swallowing pool water while swimming and playing in pools, facility managers need to have systems in place to help prevent the introduction of Crypto cysts along with methods of removing them from pool water.
A two-pronged approach to avoiding an outbreak should first involve physical steps to preventing the introduction of cysts into the pool water by bathers, followed by implementing secondary systems to trap, remove, and/or deactivate the pathogen cysts so they are rendered inert and harmless should they be ingested by bathers.
Aquatic facilities can avoid a Crypto outbreak by putting a prevention plan in place to try to prevent pool water contamination and by incorporating a secondary sanitation system to remove dangerous Crypto spores from the water, assuming they will likely enter the pool at some point.
Fighting the good fight
In the fight against these stealthy germs, industry professionals use several approaches based on research, health department regulations, and current Centers for Disease Control (CDC) recommendations. One of the most effective tools to prevent the threat of swimmer illnesses is still good old-fashioned chlorine sanitizer.
Due to its proven ability to disinfect, chlorine became popular for swimming pool use in the 1920s. In 2000, Life magazine called the use of chlorine as a disinfectant in water "one of the most important inventions of the last thousand years."
When chlorine sanitizer is used against contaminants in pool water there are varying contact time (CT) values that exist depending on the type of pathogenic (disease causing) micro-organism. For example, Giardia has a CT value of 45 minutes at 1 parts per million (ppm) of chlorine, i.e. a Giardia protozoa is inactivated in 45 minutes of contact with pool water carrying a 1 ppm residual of chlorine. Norovirus can take approximately 30 to 60 minutes to become inactivated.
The problem child of pathogenic micro-organisms is Crypto as it has a CT value of 160 hours or 6.7 days; therefore, this pathogen remains active for a week (or longer) in traditional chlorinated pools. Recent studies conducted by the U.S. Environmental Protection Agency (EPA) have shown the average adult swimmer swallows up to 29.5 ml (1 oz) of water when swimming. Children usually swallow twice as much as adults. With the possibility of billions of chlorine-resistant Crypto cysts present in pool water, it is easy to see how swimmers can become infected. This is especially true in pools with high bather loads. Because Crypto is extremely chlorine resistant and is only four to six microns in size, it is very difficult to deal with should an outbreak occur.
Further, the majority of public facilities still use sand filters, which only filter down to 25 microns. On the other hand, many residential pools use diatomaceous earth (D.E.) filtration media, which is capable of picking up micro-organisms under four microns; however, studies have shown Crypto cysts actually have the ability to elongate and press through filtration media in a viable state.