By Michael Odorico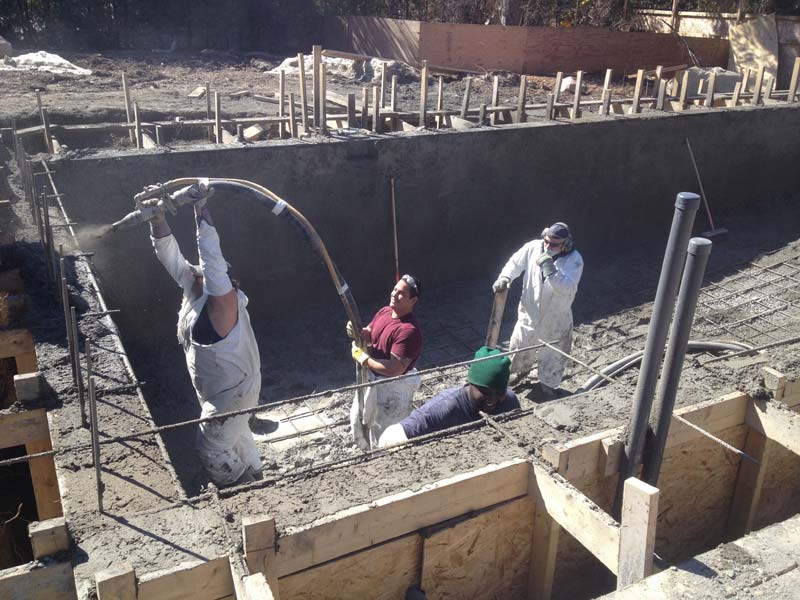 Concrete pools are often referred to as the 'Cadillac of pools,' as their hardscaped natural look and feel is tough to duplicate and their cost is reflective of this. In fact, the price point to the consumer for a concrete pool is usually the highest in comparison to other pool types for several reasons.
The difference between a concrete inground pool and a vinyl or fibreglass pool is the entire shell (walls and floor) comprises 203 to 305 mm (8 to 12 in.) of concrete. The concrete is reinforced with a cage of rebar wired together in 254-mm (10-in.) squares, which provides structural strength to the tensile properties working against it.
Typically, there are four different application methods for building a concrete pool: shotcrete, gunite, formed or cast-in-place, and dry pack.
Shotcrete
Shotcrete is a wet concrete mix delivered to the site by concrete truck. After loading the shotcrete pump, the concrete is conveyed through a hose at high velocity into the pool. Skilled workers then form and carve the shotcrete to create the pool shell.
Gunite
Gunite is a dry concrete mix comprised of sand and cement. Similar to shotcrete, it is conveyed through a hose at high velocity into the pool. Where it differs, however, is the sand and cement are shot dry through the hose with a separate water hose attachment at the nozzle. This enables workers to control the volume of water introduced to the mixture during application.
Formed or cast-in-place
This method involves using temporary moulds (usually wood panels) that are set firmly in place to construct the pool's shape. The concrete is then conveyed by pump truck into the moulds and then vibrated to minimize voids in the concrete. The temporary moulds are removed 48 to 72 hours after concrete application. This method limits design options to square or rectangle pool shapes; however, there are now systems available which enable round moulds.
Dry pack
Dry pack involves using a fairly stiff concrete mix which is shovelled and packed in place by hand to create the pool shell. While this application method was widely used in the '60s and '70s, it is seldom used today as it is labour intensive and has a high degree of difficulty.
The finishes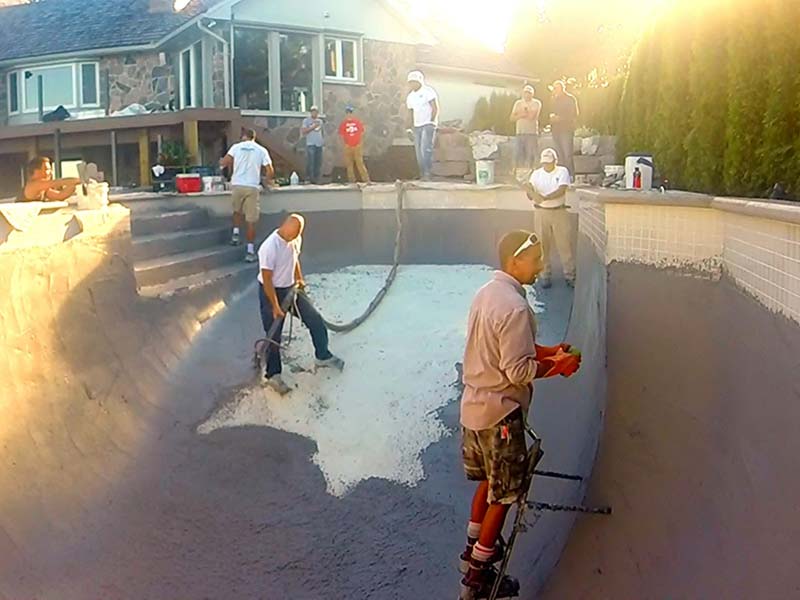 Concrete pools require three components that tie into one another to create the unique look and feel: coping, waterline tile, and plaster finishes (e.g. marbelite [marcite], exposed quartz, and exposed pebble).
Pool coping
Pool coping is a material, typically a natural stone, brick, concrete, or tile that is placed level on the top horizontal part of the pool called the bond beam. Many builders usually prefer to use natural flagstone with a rock face or bullnose (rounded) edging with a 38-mm (1.5-in.) reveal overhanging into the pool.
When using flagstone coping, it is best to use a material with a consistent thickness to achieve the best cosmetic results. Also, it is important a 13-mm (0.5-in.) expansion joint is left where the coping and pool deck connect. This joint should be filled with silicone caulking, as it remains flexible for most of its lifetime. The purpose of this joint is to inhibit the pool deck, which expands and contracts during freeze-thaw cycles, from pushing the coping stone and potentially damaging it. The function of the silicone caulk is to provide a moisture repelling feature that, when properly applied, looks cosmetically pleasing as well.
Commercial indoor pools, such as hotels, gyms, or recreation centres, tend to gravitate towards using rounded-edge or bullnose-tile coping. Tile coping offers a softer feel which is regarded as being safer in a pool environment with higher bather loads. Depth markings are also integrated into the tile finish on the coping as safety is a top priority, especially when identifying water depth to bathers.