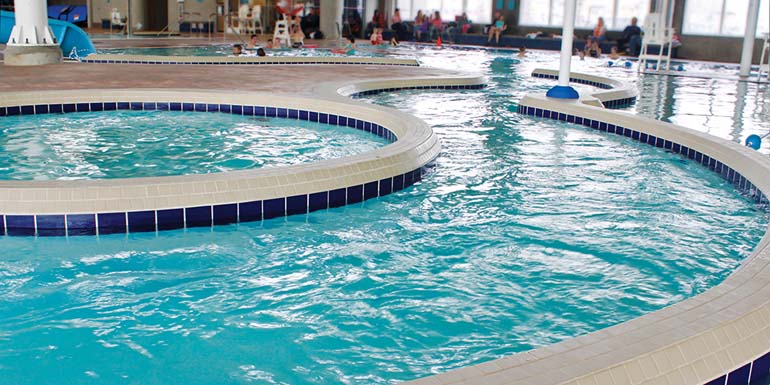 By Mike Fowler
Proper pump selection and optimal flow rates are extremely important to ensure proper hydraulics and to get the most efficiency throughout the entire pool and/or spa/hot tub. It is also important to avoid 'dead spots,' especially in today's pool designs which often have multiple curves, lazy rivers, inlets, grottos, and vanishing edges. Service professionals can also increase the energy savings for their customers (i.e. aquatic facilities) by using properly sized pumps.
This article focuses on how to choose the right size and speed pump for different applications. With a few tips and rules of thumb, proper pump selection will result in better water flow and reduced energy consumption.
Sizing
Affinity laws indicate the power demanded by a pump is proportional to the cube of the flow rate. For example, if the pump's flow rate is doubled, then its power demand is increased by a factor of eight. Therefore, it is important to use the smallest pump that is capable of completely turning over the pool water (i.e. pumping the entire contents of the pool through the filter[s]) in an acceptable amount of time.
Further, during the pump selection phase, the facility's auxiliary features (e.g. spray pads, fountains, and waterfalls) should also be considered, as it is common for them to use the pool's main pump. Some building codes, however, require the use of a multi-speed pump, or in some cases, a separate pump for each auxiliary pool load. Pumps on many pools are oversized by design—sometimes more than 20 to 40 per cent bigger than they need to be. One reason for this is because many architects and engineers look at what is required, then pick the next size up to be sure the pump can handle the job.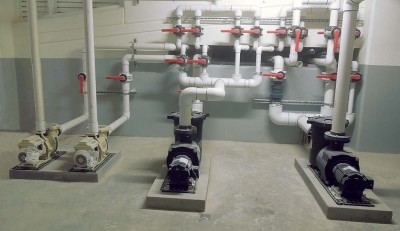 Pump selection tips
Determine flow rate in litres per minute (lpm)/gallons per minute (gpm).
Calculate total dynamic head (TDH), the pressure head difference between the inlet and outlet of the pump, to account for friction loss. Adding 6.1 m (20 ft) of head for a dirty filter is optional.
Refer to the pump's performance curve to select the preferred unit.
Locate the required horsepower (hp) of the pump by plotting lpm (gpm) versus TDH. If the plotted point falls between two pump sizes, select the next larger pump size in terms of horsepower.
Do not oversize the pump. Choose the best pump available for the facility's flow rate requirements (i.e. do not install a 20-hp pump where a 10-hp pump will suffice just because that is all that is available). If the preferred pump does not provide a proper fit, consider a different pump model.
Verify the selected filter can handle the system's flow rate and be sure the minimum backwash flow rates can be achieved.